Wild Rice and Apple Stuffed Acorn Squash
The sweetness of the apple here complements the delicate flavors of squash, celery and thyme. Canola oil's high-heat tolerance makes it an ideal choice for both roasting and sautéing in this dish.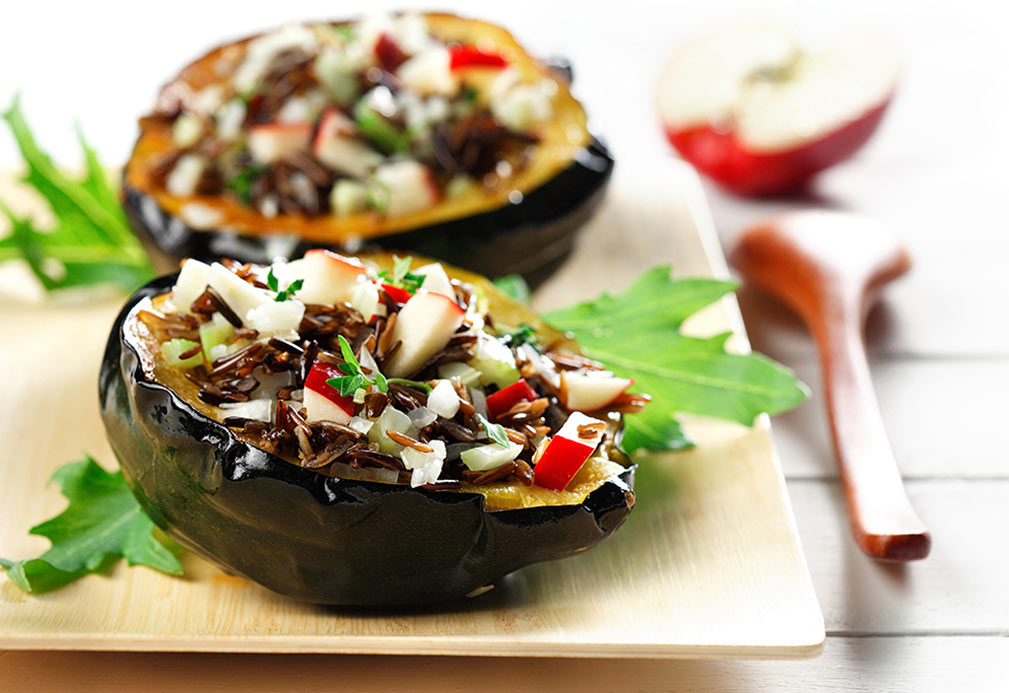 Ingredients
1/4 cup wild rice, rinsed 60 mL*
2 small acorn squash, halved and cored
1 Tbsp plus 2 tsp canola oil 25 mL 
1/2 cup finely chopped onion 125 mL
2 garlic cloves, finely chopped
2 celery stalks, diced
1 large red apple, unpeeled and diced
1 Tbsp fresh thyme 15 mL
Instructions
1. In glass or metal bowl, cover wild rice with 1 cup (250 mL) boiling water. Let sit covered for 1 hour, until kernels pop and then drain water. 
2. Preheat oven to 400⁰F (200⁰C).
3. Brush inside of each squash half with 1/2 tsp (2 mL) canola oil.
4. Place squash, flat side down, on parchment-lined baking sheet. Bake 30 minutes or until squash is tender.
5. Five minutes before squash finish cooking, prepare stuffing. In nonstick skillet, sauté onion, garlic and celery in remaining canola oil over medium-high heat for about 3 minutes. Add apple; cook 2 minutes. Add rice and thyme; mix well.
6. Remove squash from oven and stuff with wild rice blend. Serve. 
Cook's Note: *For convenience, use leftover or canned wild rice and omit the first step.
Yield
4 servings
serving size
1/2 squash
nutritional analysis
Per Serving
Calories
210
Total Fat
6 g
Saturated Fat
0.5 g
Cholesterol
0 mg
Carbohydrates
40 g
Fiber
6 g
Protein
4 g
Sodium
35 mg