Wilted Rainbow Chard with Seared Eggplant and Parsley Vinaigrette
Rainbow chard is aptly named - long, hearty leaves with a rainbow of colors that brighten any meal. Treat these leaves as you would spinach a quick sauté or steam and they're ready to go. In this salad, the wilted yet vibrant leaves are nestled under baby eggplant caramelized with canola oil. The vegetables are then drizzled with a zesty green vinaigrette made with parsley.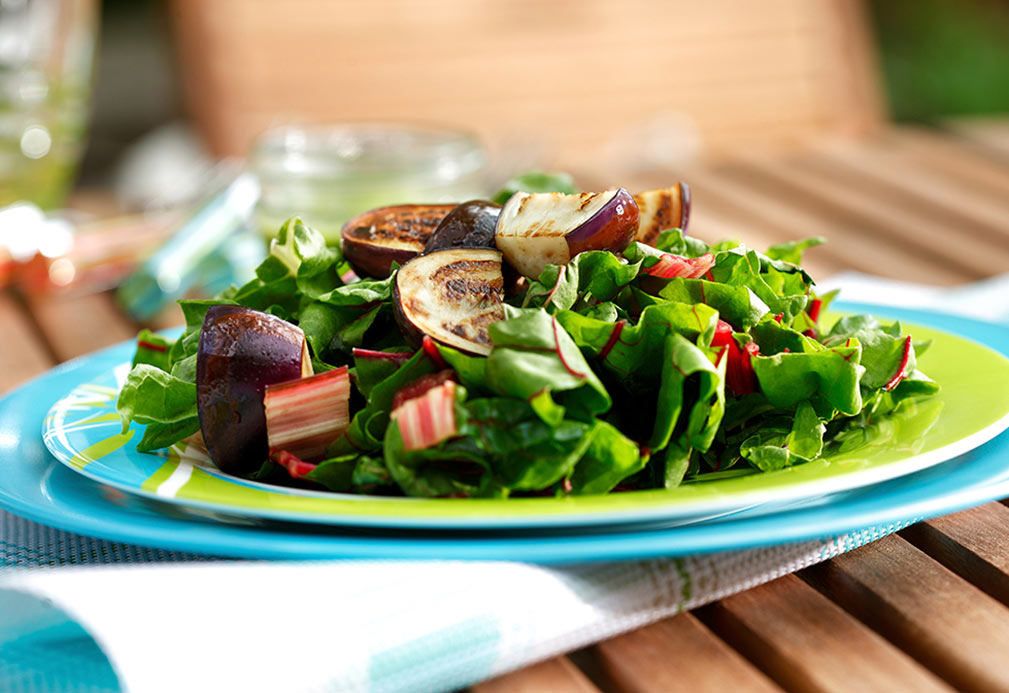 Ingredients
Parsley Vinaigrette
1 cup tightly packed fresh parsley leaves 250 mL
1/3 cup reduced-sodium chicken broth 75 mL
1/4 cup chopped shallots 60 mL
1 Tbsp cider vinegar 15 mL
2 tsp canola oil 10 mL
1/4 tsp freshly ground black pepper 1 mL
Salad
2 tsp canola oil 10 mL
2 baby eggplant or 1 medium eggplant, unpeeled and cut into 1-inch (2.5 cm) pieces (4 cups/1 L)
1 bunch fresh rainbow chard, rinsed well and chopped (4 cups/1 L)
Instructions
1. In blender, combine all vinaigrette ingredients. Purée until smooth. Set aside.
2. In large skillet, heat remaining 2 tsp (10 mL) canola oil over medium-high heat. Add eggplant and cook 3-5 minutes, until golden brown on all sides, stirring frequently. Remove from pan and cover with foil to keep warm. Set aside.
3. Add rainbow chard to same skillet over medium-high heat. Cook 1-2 minutes or until chard wilts, stirring frequently. Remove from heat and arrange chard on serving platter.
4. Arrange eggplant over top of chard. Drizzle parsley vinaigrette over eggplant and chard and serve.
Tips: The meatiness of the eggplant makes this an excellent vegetarian meal, but you may also add grilled tofu or roasted or grilled chicken breast for protein. For variety, substitute beet greens, collard greens or spinach for the rainbow chard.
Yield
4 servings
serving size
3/4 cup (175 mL) eggplant mixture, 1/2 cup (125 mL) wilted chard
nutritional analysis
Per serving
Calories
80
Total Fat
5 g
Saturated Fat
0 g
Cholesterol
0 mg
Carbohydrates
9 g
Fiber
4 g
Sugars
3 g
Protein
2 g
Sodium
95 mg
Potassium
445 mg