Roasted Beet and Carrot Salad
You just can't "beet" the pretty colors in this nutrient-dense salad. The vinaigrette will stay free-flowing even in the refrigerator thanks to canola oil's low saturated fat content.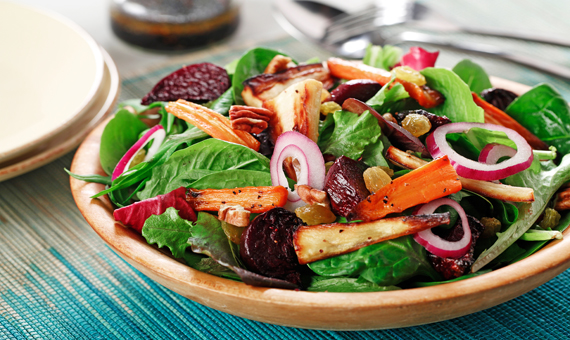 Ingredients
2 medium beets (about 8 oz/225 g total), peeled, cut into 8 wedges each
1 medium carrot (about 3 oz/85 g), peeled, cut in half lengthwise, and cut into 2-inch (5-cm) pieces
1 medium parsnip (about 3 oz/85 g), peeled, quartered lengthwise, and cut into 2-inch (5-cm) pieces
1 tsp canola oil 5 mL
4 cups (about 4 oz/115 g) packed spring greens 1 L
1/2 cup thinly sliced red onion 125 mL
1/4 cup golden raisins (optional) 60 mL
1/4 cup (1 oz/28 g) pecan pieces, toasted 60 mL
Vinaigrette
3 Tbsp balsamic vinegar 45 mL
1 Tbsp plus 2 tsp canola oil 25 mL
1/8 tsp dried red pepper flakes .5 mL
1 medium garlic clove, minced
1/4 tsp salt 1 mL
1/4 tsp coarsely ground black pepper 1 mL
Instructions
1. Preheat oven to 425 °F (220 °C).
2. Coat foil-lined baking sheet with cooking spray. Place beets, carrots, and parsnips on baking sheet. Drizzle evenly with 1 tsp (5 mL) canola oil and toss gently, yet thoroughly, to coat lightly. Arrange vegetables in single layer and bake 10 minutes; stir and bake additional 7 minutes or until beets are just tender when pierced with fork. Remove from heat and let stand to cool slightly, about 10 minutes.
3. In small jar, combine vinaigrette ingredients, secure lid and shake well to blend thoroughly.
4. Arrange equal amounts of salad greens on four salad plates. In following order, top salad with equal amounts of onion, roasted vegetables, raisins and pecans. Spoon vinaigrette evenly over all. Serve immediately for peak flavors.
Yield
4 servings
serving size
1 1/2 cups (375 mL)
nutritional analysis
Per Serving
Calories
165
Total Fat
12 g
Saturated Fat
1 g
Cholesterol
0 mg
Carbohydrates
14 g
Fiber
3 g
Protein
2 g
Sodium
185 mg