Almond Cherry Biscotti with Citrus
Italian for "biscuit," biscotti are twice baked for extra crispiness.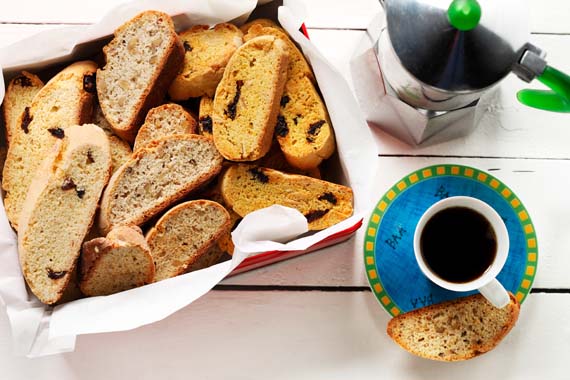 Ingredients
1/3 cup canola oil 75 mL
2/3 cup granulated sugar 150 mL
1 tsp baking powder 5 mL
1/2 tsp baking soda 2 mL
2 large eggs
2 Tbsp lemon or orange zest 30 mL
2 1/2 cups white whole-wheat flour, spooned into measuring cups and leveled 625 mL
1/2 cup dried cherries 125 mL
1/2 cup (2 oz/55g) slivered almonds toasted 125 mL
canola oil cooking spray
Instructions
1. Preheat oven to 375 °F (190 °C).
2. With a mixer, beat canola oil, sugar, baking powder and baking soda on medium speed until combined. Beat in eggs and zest. Reduce to low speed, gradually adding flour, and beat to a coarse meal texture. (Dough will be fairly dry at this point.) Add cherries and almonds. Using a spoon, blend thoroughly. Knead slightly and shape into two logs 9 inches long, 1/2 inch high, and 2 inches wide. Coat large nonstick baking sheet with cooking spray and place logs on baking sheet.
3. Bake for 18 minutes or until wooden pick inserted in the center comes out clean. Cool on baking sheet 20 minutes. Gently remove and place on cutting board.
4. Reduce heat to 325 °F (160 °C). Using a serrated knife, carefully cut each roll crosswise into 12 slices diagonally. Place slices cut-side down on cookie sheet and bake 9 minutes on each side or until crisp and light brown. Place baking sheet on wire rack and cool completely.
Tip: Let the biscotti stand 4 hours to allow flavors to blend. Store in an airtight container at room temperature for up to 3 days or wrap tightly in plastic wrap and freeze. Dried cranberries can be substituted for dried cherries and pistachios for almonds.
Yield
12 servings
serving size
2 biscotti
nutritional analysis
Per Serving
Calories
260
Total Fat
10 g
Saturated Fat
1 g
Cholesterol
35 mg
Carbohydrates
38 g
Fiber
4 g
Protein
5 g
Sodium
95 mg