Toffee Pecan Topped Cookies
These decadent drop cookies will drop out of sight if they're left on the counter without supervision!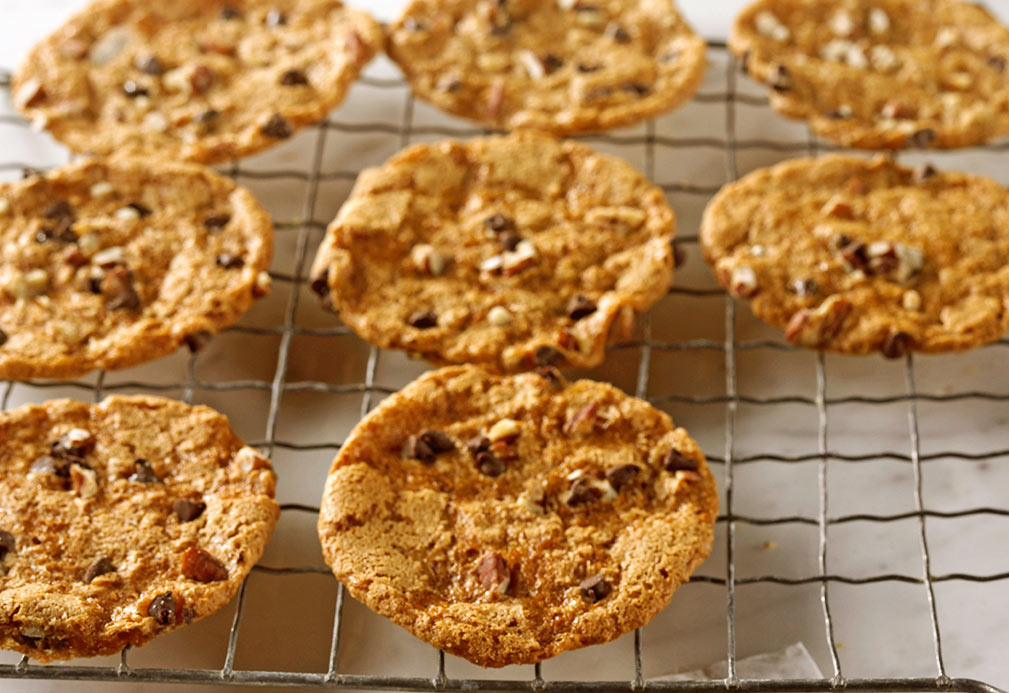 Ingredients
canola oil cooking spray
2/3 cup white whole-wheat flour, spooned into measuring cup and leveled 150 mL
2 tsp baking powder 10 mL
1/2 tsp baking soda 2 mL
1/4 tsp salt 1 mL
1/2 cup packed dark brown sugar 125 mL
1/3 cup granulated sugar 75 mL
1/4 cup egg substitute 60 mL
3 Tbsp canola oil 45 mL
1 tsp vanilla, butter, and nut flavoring or 2 tsp (10 mL) vanilla extract 5 mL
Topping
1/4 cup (1 oz/ 28 g) pecan pieces, toasted and finely chopped 60 mL
1/4 cup toffee bits 60 mL
Instructions
1. Preheat oven to 350 °F (180 °C). Coat a baking sheet with canola oil cooking spray.
2. Combine flour, baking powder, baking soda, and salt in a medium bowl; set aside.
3. Combine brown sugar, sugar, egg substitute, canola oil, and vanilla flavoring in another medium bowl. With an electric mixer on high speed, cream together until smooth and fluffy.
4. Reduce to medium- low speed, gradually add flour mixture to creamed mixture and beat until well blended. Drop mixture 2 inches apart by level teaspoons onto a cookie sheet. Combine nuts and toffee in a small bowl. Top each cookie with 1/2 tsp (2 mL) nut mixture. Bake 7 minutes. Let stand 1 minute on the cookie sheet before removing with a metal spatula. Cool on a wire rack.
Tip: The "vanilla, butter, and nut flavoring" is one flavoring, not three separate ones. It is sold next to vanilla extract in most supermarkets and gives the cookies a butterscotch flavor. Don't like toffee? Use mini chocolate chips instead!
Yield
16 servings
serving size
3 cookies
nutritional analysis
Per Serving
Calories
120
Total Fat
5 g
Saturated Fat
1 g
Cholesterol
0 mg
Carbohydrates
18 g
Fiber
1 g
Protein
1 g
Sodium
150 mg