Rich, Warm Brownie Wedges with Java Cream
Dense wedges of chewy chocolate are paired with a sweet coffee-flavored cream and fresh berries. See the recipe video below.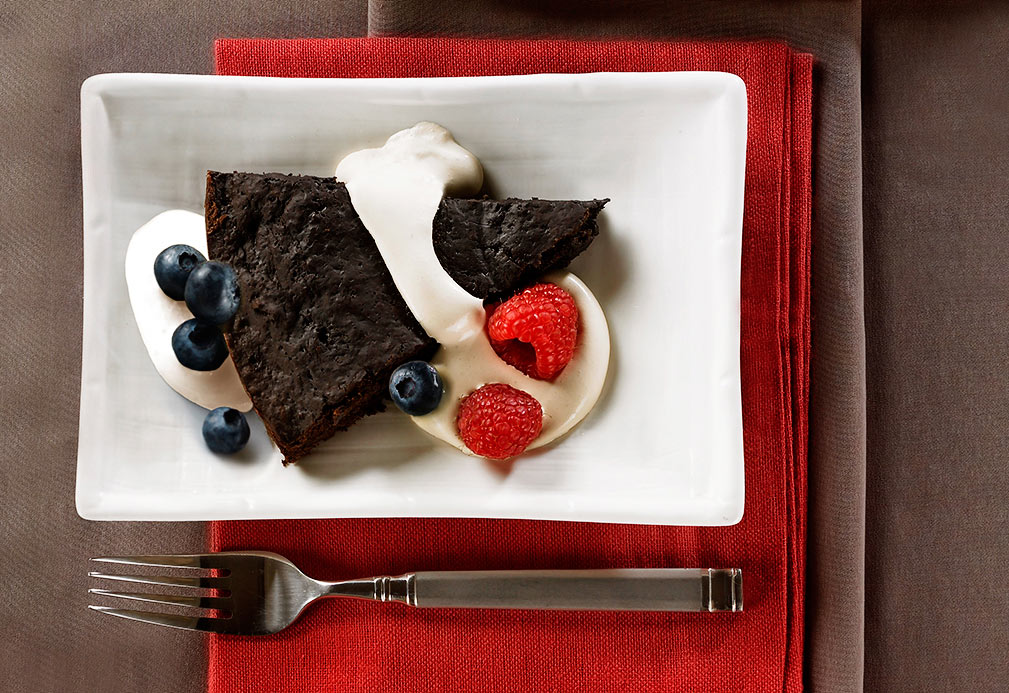 Ingredients
Canola oil cooking spray
Wedges
2/3 cup all-purpose flour, spooned into measuring cup and leveled 150 mL
1/3 cup white whole-wheat flour, spooned into measuring cup and leveled 75 mL
1/2 cup cocoa powder 125 mL
1 1/2 tsp baking powder 7 mL
1 Tbsp instant coffee granules, divided 15 mL
1/8 tsp salt .5 mL
1/2 cup packed brown sugar substitute blend 125 mL
1/3 cup canola oil 75 mL
1/2 cup egg substitute 125 mL
2 tsp vanilla extract 10 mL
Cream
2 Tbsp water 30 mL
1 tsp instant coffee granules 5 mL
4 oz fat-free whipped topping  115g
1 cup fresh raspberries 250 mL
1 cup blackberries or blueberries 250 mL
Instructions
1. Preheat oven to 325 °F (160 °C). Coat a 9 inch (23 cm), nonstick spring form pan or cake pan with canola oil cooking spray.
2. Combine flours, cocoa, baking powder, 1 Tbsp (15 mL) coffee granules, and salt in a medium bowl.
3. Combine sugar, canola oil, egg substitute, and vanilla in another medium bowl; mix well. Add sugar mixture to flour mixture, and stir until just blended. Batter will be very thick. Spoon into the bottom of the pan; spread evenly by coating the back of a spoon with cooking spray. Bake for 11 minutes or until slightly puffed. (Mixture will not be completely cooked at this point, but it will continue to cook while standing without overcooking and drying out.) Place the pan on a wire rack, and let cool for 5 minutes. Remove the sides of the pan, and gently remove from bottom or leave on bottom and place on a serving plate. Serve warm or at room temperature. When cooled completely, store in an airtight container at room temperature.
4. To make cream: combine water with 1 tsp (5 mL) instant coffee granules in a medium bowl, and stir until dissolved. Add whipped topping; whisk until a sauce consistency is reached. For thinner sauce, add 1 to 2 Tbsp (15 to 30 mL) water or milk. Refrigerate until needed. To serve, cut into wedges, spoon mocha cream on top, and sprinkle with berries.
Fresh tip: The canola oil keeps this brownie moist for two days.
Yield
8 servings
serving size
1/8 brownies, 2 Tbsp (30 mL) cream and 1/4 cup (60 mL) berries
nutritional analysis
Per Serving
Calories
260
Total Fat
10 g
Saturated Fat
1 g
Cholesterol
0 mg
Carbohydrates
36 g
Fiber
4 g
Protein
5 g
Sodium
145 mg