Apple Coconut Muffins
Fresh apple and coconut come together to make this a delicious muffin!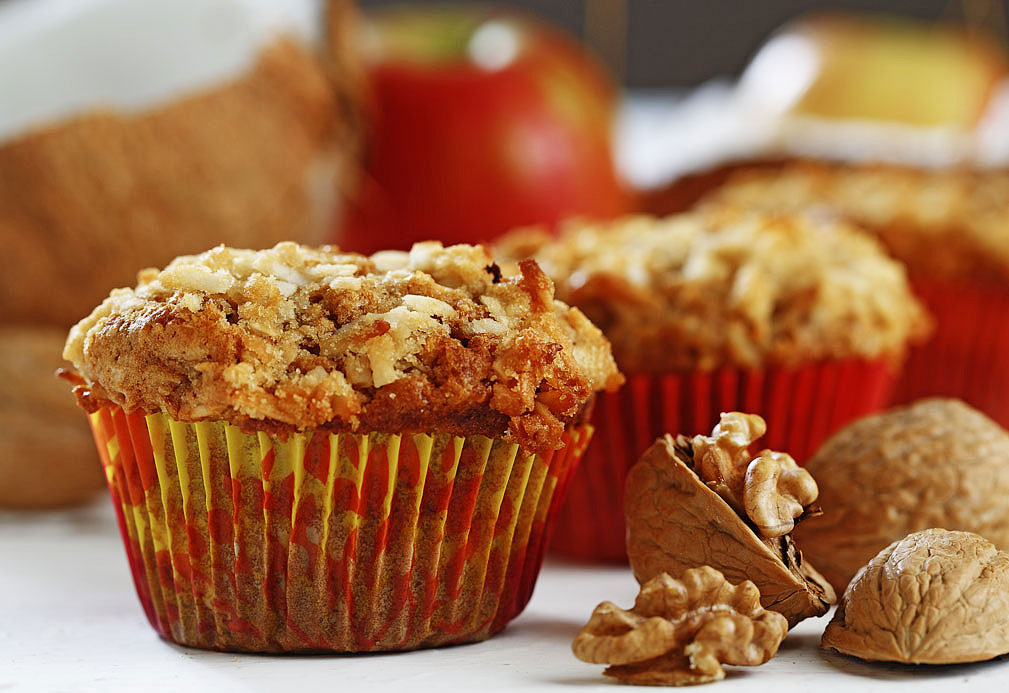 Ingredients
1 1/2 cups all-purpose flour 375 mL
1/2 cup light brown sugar, tightly packed 125 mL
1 Tbsp baking powder 15 mL
1 tsp baking soda 5 mL
1/2 tsp salt 2 mL
1/4 tsp cinnamon 1 mL
1/4 tsp nutmeg 1 mL
2 cups grated apple 500 mL
2 large eggs, lightly beaten
1/3 cup canola oil 75 mL
1/2 cup walnut pieces 125 mL
3/4 cup sweetened shredded or flaked coconut 175 mL
Topping
2 Tbsp non-hydrogenated canola margarine 30 mL
1/3 cup sweetened shredded coconut 75 mL
3 Tbsp light brown sugar 45 mL
Instructions
1. Preheat oven to 350 °F (180 °C). Grease muffin pan and set aside. Combine topping ingredients in small bowl. Stir and set aside.
2. In large bowl, mix together flour, brown sugar, baking powder, baking soda, salt, cinnamon and nutmeg.
3. In another large bowl, mix together grated apple, eggs, canola oil and walnuts. Add apple mixture to flour mixture all at once, stirring just enough to almost moisten dry ingredients. Add coconut, and stir to incorporate.
4. Divide batter among muffin cups. Combine topping ingredients and drop crumbles of topping over batter. Bake for 15 to 20 minutes for regular-sized muffins or 20 to 25 minutes for large, or until tops spring back when lightly pressed and wooden skewer inserted into center of muffin comes out clean. Cool pan on wire rack 10 minutes, then turn muffins out and cool on rack until desired temperature.
Yield
12 regular or 6 large muffins
serving size
1 muffin
nutritional analysis
Per Serving
Calories
270
Total Fat
15 g
Saturated Fat
5 g
Cholesterol
40 mg
Carbohydrates
32 g
Fiber
1 g
Protein
4 g
Sodium
380 mg