Blueberry Lemon Country Cobbler
Adding diced pear and a generous amount of fresh lemon zest gives a true freshness to this extraordinary fruit cobbler.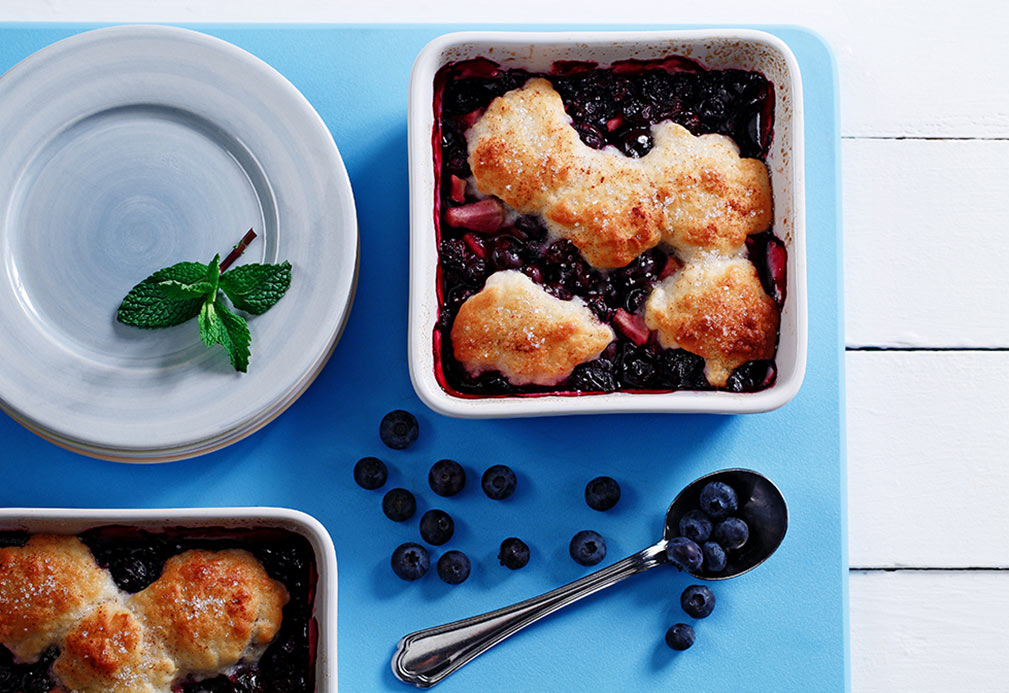 Ingredients
Canola oil cooking spray
Filling
3 Tbsp sugar 45 mL
1 Tbsp cornstarch 15 mL
1/4 cup water 60 mL
1 lb fresh (or partially thawed frozen) blueberries 500 g
1 ripe medium pear, peeled, halved, cored, and diced
1 Tbsp lemon zest 15 mL
Topping
3/4 cup white or whole wheat flour, spooned into measuring cup and leveled 175 mL
2 1/2 Tbsp sugar, divided 37 mL
1 tsp baking powder 5 mL
1/2 cup fat-free buttermilk 125 mL
2 Tbsp canola oil 30 mL
1 egg white
1 tsp lemon zest 5 mL
1/4 tsp ground cinnamon 1 mL
Instructions
1. Preheat oven to 400 ºF (200 ºC).
2. Coat an 11 x 17 inch baking pan with canola oil cooking spray.
3. To prepare filling: combine sugar, cornstarch, and water in a large nonreactive saucepan. Stir until cornstarch is completely dissolved, then stir in berries and pears. Bring to a boil over medium-high heat and boil 1 full minute. Remove from heat and stir in 1 Tbsp (15 mL) lemon zest. Place fruit mixture in the baking pan.
4. To prepare topping: combine flour, 2 Tbsp (30 mL) sugar, and baking powder in medium bowl. Combine buttermilk, canola oil, egg white and remaining 1 tsp (5 mL) lemon zest in small bowl. Add buttermilk mixture to flour mixture, and stir until just blended. Spoon batter into eight small mounds on top of the filling. Mix remaining sugar with cinnamon and sprinkle on top of cobbler. Bake 20 to 25 minutes or until filling is bubbly and a wooden pick inserted into the topping comes out clean. Let stand 20 minutes to absorb flavors.
Tip: The canola oil makes the topping spread, creating a rustic cobbler appearance. Blueberries may be substituted with raspberries or mixed berries.
Yield
8 servings
serving size
1/2 cup (125 mL)
nutritional analysis
Per Serving
Calories
165
Total Fat
4 g
Saturated Fat
0.3 g
Cholesterol
0 mg
Carbohydrates
31 g
Fiber
4 g
Protein
3 g
Sodium
70 mg