Apple Raisin Crumble
This tasty, comforting dessert is delicious served warm or cold.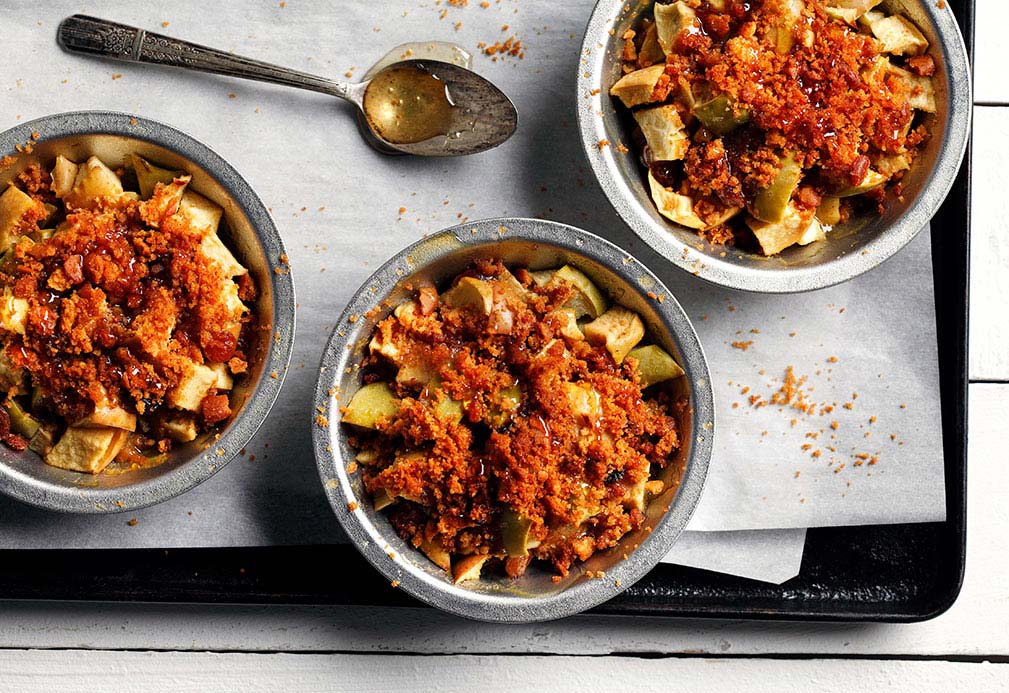 Ingredients
8 medium apples (6 McIntosh, Jonathan or Gala and 2 Granny Smith), unpeeled, chopped into 3/4 inch cubes
1/3 cup raisins 75 mL
2 Tbsp packed dark brown sugar 30 mL
1 tsp vanilla extract 5 mL
1 Tbsp cornstarch 15 mL
12 gingersnap cookies
1 Tbsp canola oil 15 mL
1/2 tsp ground cinnamon 2 mL
1 Tbsp packed dark brown sugar 15 mL
2 Tbsp maple syrup or honey 30 mL
Instructions
1. Preheat oven 350 °F (180 °C).
2. In medium mixing bowl, combine apples, raisins, 2 Tbsp (30 mL) brown sugar, vanilla extract and cornstarch, toss gently, yet thoroughly until cornstarch is dissolved. Place in a 11 x 7-inch (28 x 18-cm) baking dish and set aside.
3. Place gingersnaps in small plastic resealable bag. Using back of spoon or meat mallet, crush cookies to coarse texture. Place in small mixing bowl and add remaining ingredients, except syrup. Stir to blend thoroughly and sprinkle evenly over fruit.
4. Bake, uncovered, 45 minutes or until fruit is bubbly. Remove from heat, drizzle syrup evenly over all and let stand 10 minutes to absorb flavors. Store cooled leftovers covered with plastic wrap in refrigerator up to two days.
Tips: If smaller amount is desired, divide recipe in half and bake in loaf pan as directed.
Yield
8 servings.
serving size
nutritional analysis
Per Serving
Calories
190
Total Fat
3.5 g
Saturated Fat
0.5 g
Cholesterol
0 mg
Carbohydrates
41 g
Fiber
4 g
Protein
1 g
Sodium
40 mg