Bean Sprouts & Tomatoes
Ideal for northern climates where all the ingredients for this salad can be readily available most of the year.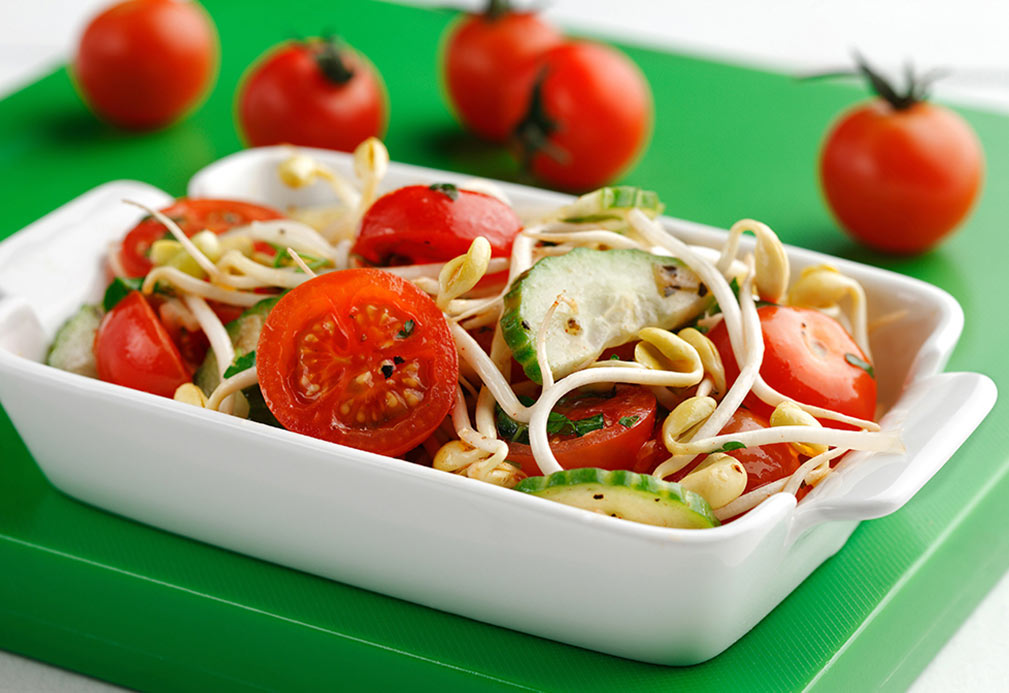 Ingredients
2 cups bean sprouts 500 mL
1 cup cherry tomato halves 250 mL
1/2 cup English cucumber, halved lengthwise then thinly sliced 125 mL
1/4 cup flat leaf parsley, chopped 60 mL
2 Tbsp canola oil 30 mL
1 Tbsp red wine vinegar 15 mL
1/4 tsp pepper 1 mL
1/4 tsp dried basil 1 mL
1/4 tsp paprika 1 mL
1 large clove garlic, crushed 
Instructions
1. In large bowl, combine bean sprouts, tomato, cucumber and parsley. Cover and refrigerate for 30 minutes.
2. In small bowl, whisk together canola oil, vinegar, pepper, basil and paprika. Add crushed garlic. Before serving, pour dressing over salad; mix lightly.
Yield
4 servings
serving size
1/2 cup (125 mL)
nutritional analysis
Per Serving
Calories
110
Total Fat
7 g
Saturated Fat
0.5 g
Cholesterol
0 mg
Carbohydrates
11 g
Fiber
2 g
Sugars
1 g
Protein
4 g
Sodium
10 mg
Potassium
260 mg