Asparagus and Artichoke Pasta Salad
Prepare in advance for the ultimate flavor. It only gets better with time!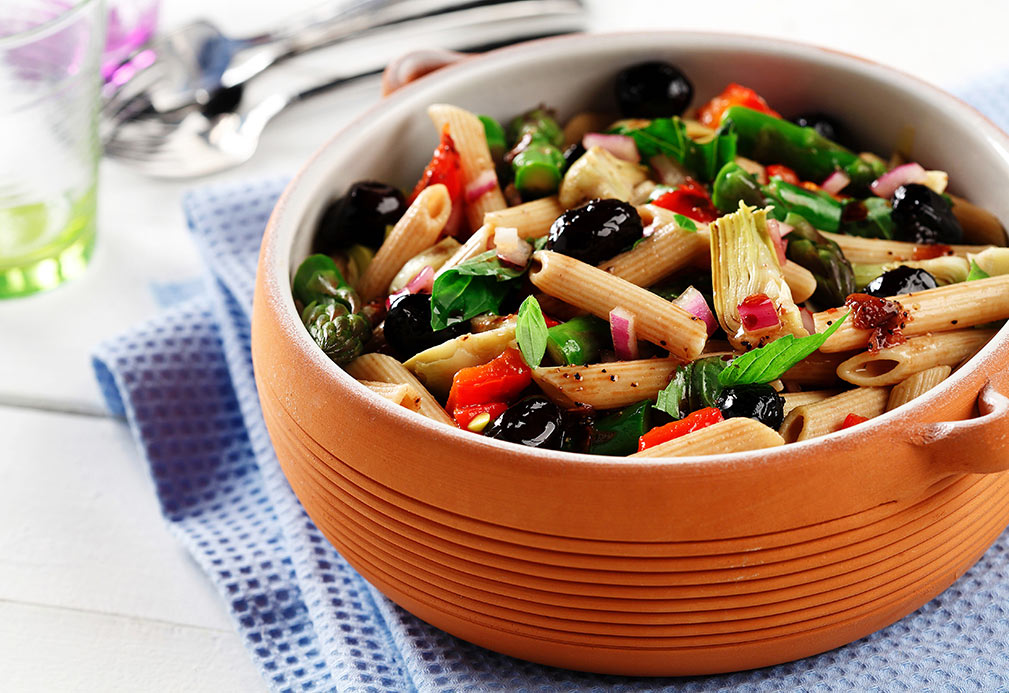 Ingredients
1 1/2 cups uncooked dry whole grain penne or rotini pasta (or whole wheat pasta) 375 mL
1/2 lb asparagus spears, trimmed and cut in 2 inch pieces about 8-10 spears 250g
1 (14oz/398mL) can quartered artichoke hearts, drained and coarsely chopped
1/2 cup chopped roasted red pepper 125 mL
1/4 cup chopped red onion 60 mL
1/2 cup canned sliced ripe olives, drained 125 mL
2 Tbsp balsamic vinegar 30 mL
2 Tbsp canola oil 30 mL
1 medium garlic clove, minced
2 Tbsp chopped fresh basil or 2 tsp (10 mL) dried basil 30 mL
1/2 tsp salt 2 mL
1/4 tsp black pepper 1 mL
Instructions
1. Cook pasta according to directions on package, omitting any salt or fat. Add asparagus 2 minutes before pasta is done. Immediately drain pasta and asparagus mixture in a colander and run under cold water until cooled. Drain well.
2. In medium bowl combine artichoke hearts, red pepper, red onion and olives. Add drained pasta mixture. In another bowl mix together balsamic vinegar, canola oil, garlic, basil, salt and pepper. Mix well. Pour dressing over pasta mixture and toss gently, yet thoroughly to coat.
3. Serve immediately or cover with plastic wrap and refrigerate up to 8 hours in advance for peak flavor and texture.
Yield
10 servings
serving size
nutritional analysis
Per Serving
Calories
110
Total Fat
4 g
Saturated Fat
0 g
Cholesterol
0 mg
Carbohydrates
16 g
Fiber
2 g
Protein
3 g
Sodium
270 mg