Black Bean and Edamame Avocado Salad
Edamame is a superstar legume! Just 1/2 cup (125 mL) of edamame punches up the fiber, protein and vitamin/mineral content of your diet.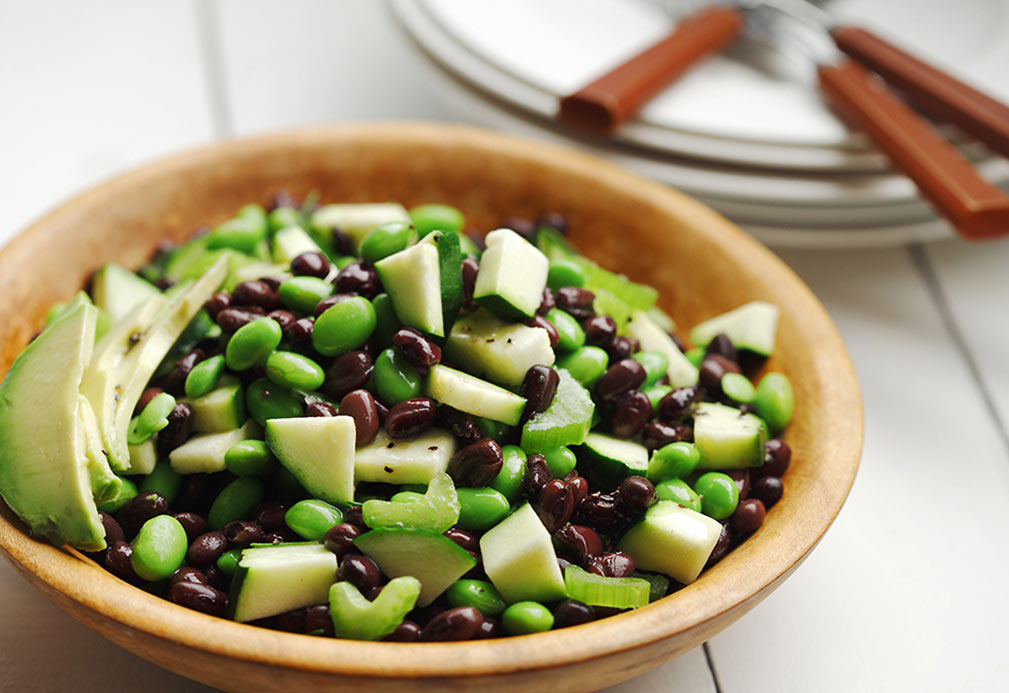 Ingredients
1/2 of 15-oz (425 mL) can black beans, rinsed and drained
1 cup fresh or thawed frozen shelled edamame 250 mL
1 medium yellow squash, diced 
1 medium celery stalk, thinly sliced 
2 Tbsp lime juice 30 mL
1 Tbsp canola oil 15 mL
1/2 tsp chopped fresh rosemary 2 mL
1/4 tsp salt 1 mL
1/4 tsp coarsely ground black pepper 1 mL
1 ripe medium avocado, peeled, seeded and chopped 
Instructions
1. In medium bowl, combine all ingredients but avocado. Toss gently yet thoroughly until well coated.
2. Just before serving, add avocado and toss gently. Serve.
Yield
6 servings
serving size
1/2 cup (125 mL)
nutritional analysis
Per Serving
Calories
110
Total Fat
7 g
Saturated Fat
0.5 g
Cholesterol
0 mg
Carbohydrates
9 g
Fiber
4 g
Sugars
1 g
Protein
4 g
Sodium
80 mg
Potassium
348 mg