Balsamic Caramelized Onion, Spinach and Goat Cheese Pita Pizzas
Caramelized onions are slow food at its very best and here make a glorious base for these rustic yet elegant pita pizzas topped with creamy goat cheese.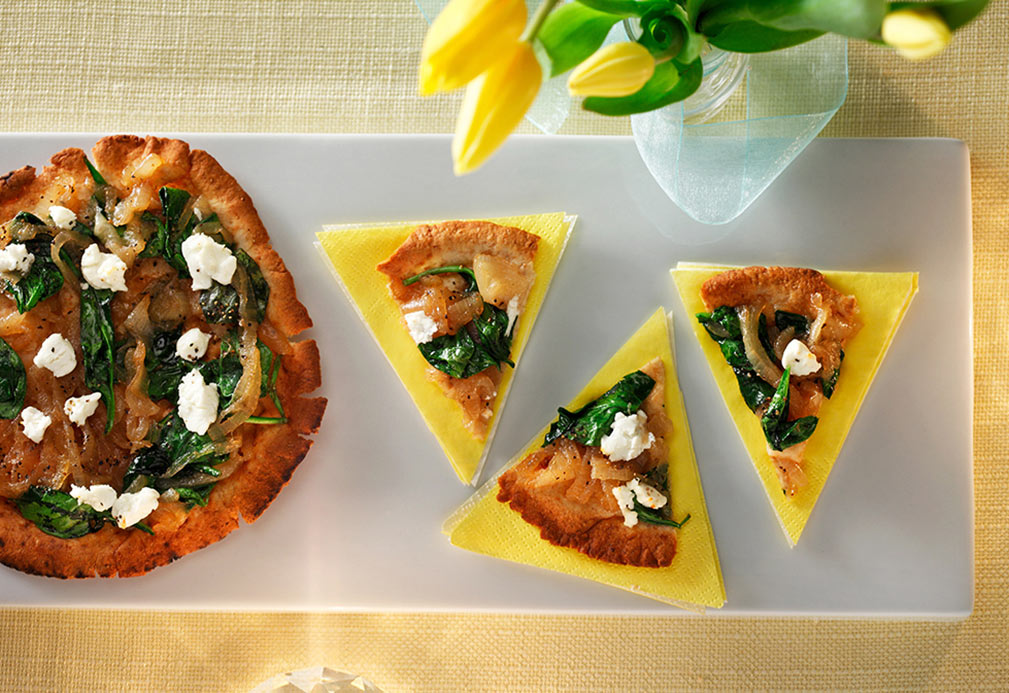 Ingredients
3 Tbsp canola oil, divided 45 mL
2 large yellow onions, thinly sliced into half-moons (about 4 cups/1 L)
1 Tbsp balsamic vinegar 15 mL
2 cups baby spinach, coarsely chopped 500 mL
1/4 tsp freshly ground black pepper 1 mL
2 whole wheat pita pockets (about 6 inches/15 cm in diameter)
2 oz goat cheese 60 g
Instructions
1. In large, non-stick skillet, heat 2 Tbsp (30 mL) canola oil over medium-high heat. Add onions and stir to coat with canola oil. Cover, reduce heat to medium-low and cook for 15 minutes, stirring occasionally. Uncover and continue to cook, stirring occasionally, until onions are deeply golden in color, 30-40 minutes more. Stir in balsamic vinegar and mix until combined. 
2. Increase heat to medium, stir spinach and pepper into onion mixture and cook until spinach is just barely wilted, about 30 seconds to 1 minute. Remove from heat. Onion-spinach mixture can be made up to two days ahead and stored in airtight container in refrigerator.
3. Preheat oven to 400 °F (200 °C). Carefully slice pita in half to form two circles each. Place pita circles on baking sheet and brush up-facing side with remaining tablespoon (15 mL) canola oil. Spread about 1/4 cup (60 mL) onion-spinach mixture onto each pita round, leaving about 1/2 inch (1.25 cm) around edges as "crust." Distribute goat cheese in small dollops among pizzas.
4. Bake until pitas are browned on edges and cheese is melted, about 6 minutes. 
5. Cut each pizza into 8 wedges and serve immediately.
Yield
8 servings (4 pizzas)
serving size
4 wedges
nutritional analysis
Per Serving
Calories
130
Total Fat
7.5 g
Saturated Fat
1.5 g
Cholesterol
5 mg
Carbohydrates
12 g
Fiber
2 g
Protein
3 g
Sodium
125 mg