Mini Corn Cakes with Chipotle Aioli
Aioli is traditionally a creamy garlic dip. Chipotle aioli serves up smoky, subtle heat while complementing the corn cakes. Canola oil's mildness lets the flavors of chile and toasted corn come through.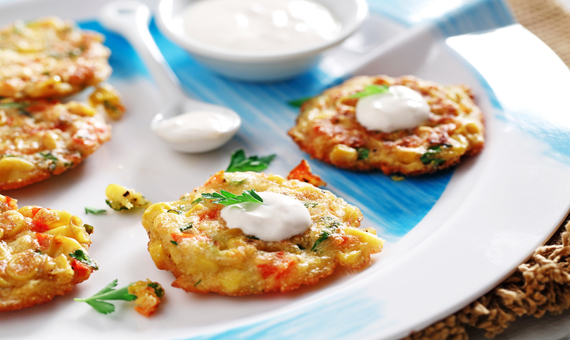 Ingredients
Aioli
1/3 cup fat-free sour cream 75 mL
1/2-3/4 tsp adobo sauce 2-4 mL
2-3 Tbsp fat-free milk or water 30-45 mL
1/2 medium garlic clove, minced
1/8 tsp salt 0.5 mL
Corn Cakes
2 large egg whites
1 Tbsp canola mayonnaise 15 mL
1 1/2 cups frozen corn kernels, thawed and patted dry 375 mL
1/2 cup finely chopped red bell pepper 125 mL
1/4 cup finely chopped green onions 60 mL
2 Tbsp chopped fresh parsley leaves 30 mL
1/4 cup cornmeal 60 mL
1/4 tsp salt 1 mL
1/4 tsp black pepper 1 mL
Frying
canola oil cooking spray
1 Tbsp canola oil, divided 15 mL
Instructions
1. In small bowl, combine sour cream and adobo sauce. Add remaining aioli ingredients and stir until smooth. Set aside.
2. In medium bowl, combine egg whites and canola mayonnaise and stir until well blended. Stir in remaining corn cake ingredients.
3. Coat large, nonstick skillet with canola oil cooking spray. Add 1/2 Tbsp (7 mL) canola oil to skillet and heat over medium heat. Tilt skillet to lightly coat bottom of pan. Working in two batches, spoon rounded tablespoon of corn mixture into skillet, making eight mounds. Flatten slightly for even thickness, cook 2 minutes on each side or until golden, and place on serving platter. Repeat with remaining canola oil and corn mixture.
4. Serve corn cakes with aioli.
Tip: Adobo sauce can be purchased in a jar or taken from canned chipotle chile peppers packed in the sauce.
Yield
4 Servings
serving size
4 corn cakes.
nutritional analysis
Per Serving
Calories
150
Total Fat
5 g
Saturated Fat
0.3 g
Cholesterol
0 mg
Carbohydrates
20 g
Fiber
2 g
Protein
6 g
Sodium
295 mg