Banana Bread Biscotti
Crunchy biscotti perfect for dunking!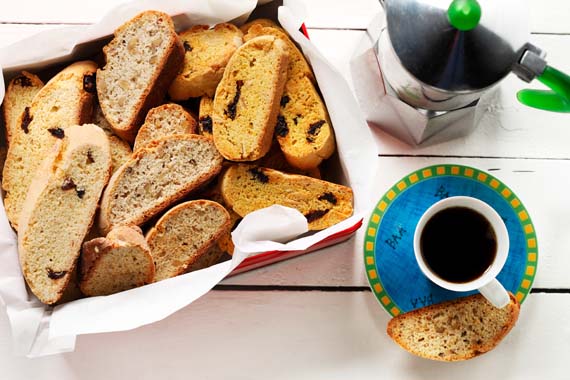 Ingredients
canola oil cooking spray
1 3/4 all-purpose flour 425 mL
1/2 cup granulated sugar 125 mL
1 tsp baking powder 5 mL
1/2 tsp salt 2 mL
1/2 cup mashed ripe banana 125 mL
1 Tbsp canola oil 15 mL
1 egg
1 tsp vanilla 5 mL
1/2 cup chopped walnuts or pecans 125 mL
Instructions
1. Preheat oven to 350 °F (180 °C). Prepare cookie sheet by spraying with cooking spray. In medium bowl, combine flour, sugar, baking powder and salt; set aside.
2. In large bowl, combine banana, oil, egg and vanilla, and mix until well blended. Add flour mixture and walnuts to banana mixture and stir until just combined. If mixture seems dry, use hands to mix until dough comes together.
3. Turn the dough out onto lightly floured surface, divide in half, and shape each piece into an 8 inch (20 cm) long log. Place rolls 4 inches (10 cm) apart on baking sheet. Flatten rolls to 1 inch (2.5 cm) thickness.
4. Bake for 35 minutes. Remove rolls from baking sheet and cool on rack for 10 minutes. Cut each roll diagonally into 15 slices. Place slices cut side down on baking sheet. Reduce temperature to 325 °F (160 °C) and bake for additional 10 minutes. Remove from baking sheet and cool completely on wire rack.
Yield
24 biscotti
serving size
1 biscotti
nutritional analysis
Per Serving
Calories
82
Total Fat
3 g
Saturated Fat
0 g
Cholesterol
9 mg
Carbohydrates
13 g
Fiber
0.5 g
Protein
1.5 g
Sodium
43 mg