Dried Fruit Biscotti
Dip these fruit biscotti in your favorite latte and simply enjoy!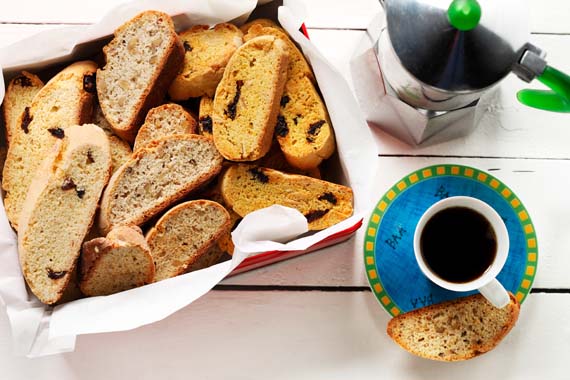 Ingredients
canola oil cooking spray
2 3/4 cups all purpose flour 675 mL
1 cup granulated sugar 250 mL
1/4 cup dried cranberries 60 mL
1/4 cup almond slivers 60 mL
2 tsp baking powder 10 mL
1/8 tsp salt 0.5 mL
2 Tbsp canola oil 30 mL
1 tsp almond extract 5 mL
1 tsp vanilla extract 5 mL
3 eggs
Instructions
1. Preheat oven to 350 °F (180 °C). Coat baking sheet with cooking spray.
2. In large mixing bowl, combine flour, sugar, dried cranberries, almonds, baking powder and salt. In small bowl, combine canola oil, almond extract, vanilla extract and eggs. Add to flour mixture, stirring well until blended. (Dough will be dry and crumbly).
3. Place dough on lightly floured surface and knead lightly 8 to 10 times. Divide dough in half. Shape each portion into 8 inch (20 cm) long roll. Place rolls 4 inches (10 cm) apart on baking sheet. Flatten rolls to 1 inch (2.5 cm) thickness. Bake for 35 minutes.
4. Remove rolls from baking sheet and cool on rack for 10 minutes. Cut each roll diagonally into 15 slices. Place slices cut side down on baking sheet. Reduce oven temperature to 325 °F (160 °C) and bake for an additional 10 minutes. Remove from baking sheet and cool completely on wire rack.
Yield
30 biscotti
serving size
1 biscotti
nutritional analysis
Per Serving
Calories
90
Total Fat
2 g
Saturated Fat
0 g
Cholesterol
20 mg
Carbohydrates
16 g
Fiber
0 g
Protein
2 g
Sodium
45 mg