Banana Upside Down Cake
Tasty with any fruit, but bananas are so easily available year-round, that this recipe is a perfect solution to "what's for dessert?"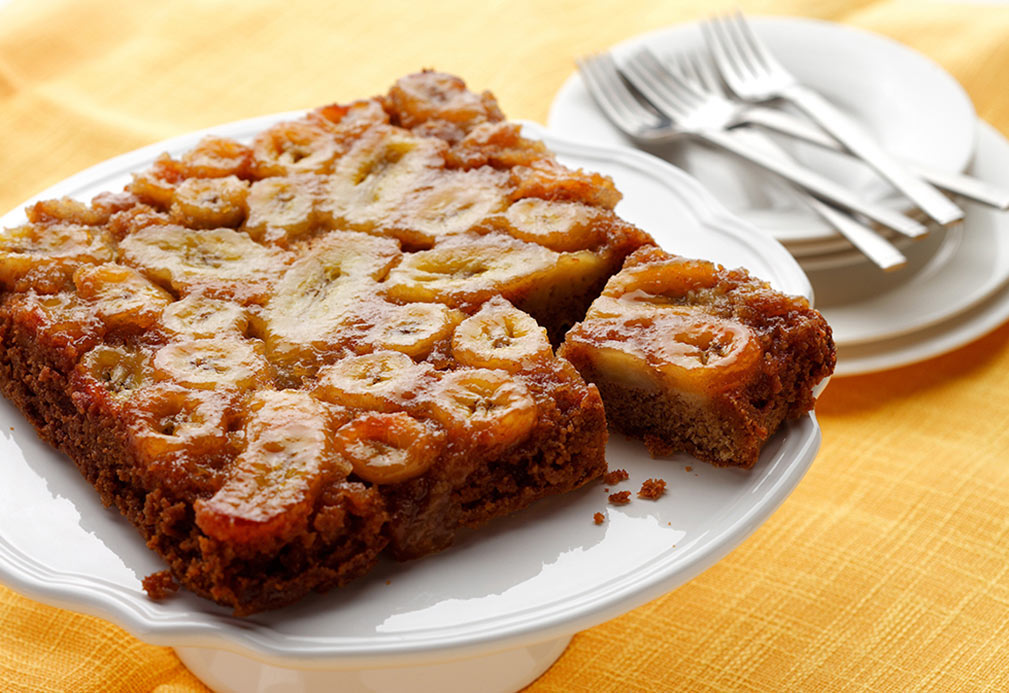 Ingredients
3 Tbsp non-hydrogenated canola oil margarine 45 mL
1/2 cup firmly packed brown sugar 125 mL
3 bananas, peeled and sliced in 1/2-inch (1 cm) slices 
1 egg
1 cup granulated sugar 250 mL
1 banana, peeled and cut into chunks
3 Tbsp canola oil 45 mL
2 Tbsp skim milk 30 mL
1 tsp vanilla extract 5 mL
1/2 tsp grated lemon or orange peel 2 mL
1 cup all-purpose flour 250 mL
1 tsp baking powder 5 mL
1/2 tsp ground cinnamon 2 mL
1/4 tsp baking soda 1 mL
1/4 tsp salt 1 mL
Instructions
1. Melt canola margarine in 9 x 9 inch (1.5 L) cake pan, placed in a 350 °F (180 °C) oven for two to three minutes.
2. Remove pan from oven. Stir in brown sugar. Arrange sliced bananas in a single layer in brown sugar mixture.
3. Place egg, granulated sugar, banana chunks, canola oil, milk, vanilla extract and grated peel in food processor or blender. Process until smooth.
4. In a large bowl, combine flour, baking powder, cinnamon, baking soda and salt. Add banana mixture to flour mixture. Stir until blended. Pour batter over bananas in cake pan. Bake at 350 °F (180 °C) for 25 to 30 minutes or until cake tester inserted in center comes out clean.
5. Cool for 5 minutes in pan set on wire rack. Invert onto serving plate. Serve warm or cool. Best served on the same day.
Yield
12 servings
serving size
1 serving
nutritional analysis
Per Serving
Calories
230
Total Fat
7 g
Saturated Fat
1 g
Cholesterol
20 mg
Carbohydrates
43 g
Fiber
1 g
Protein
2 g
Sodium
140 mg