Beef With Black Beans & Vegetables
This classic dish is flavored with preserved black soybeans that are fermented with salt and spices and is a popular seasoning with meat, seafood and poultry.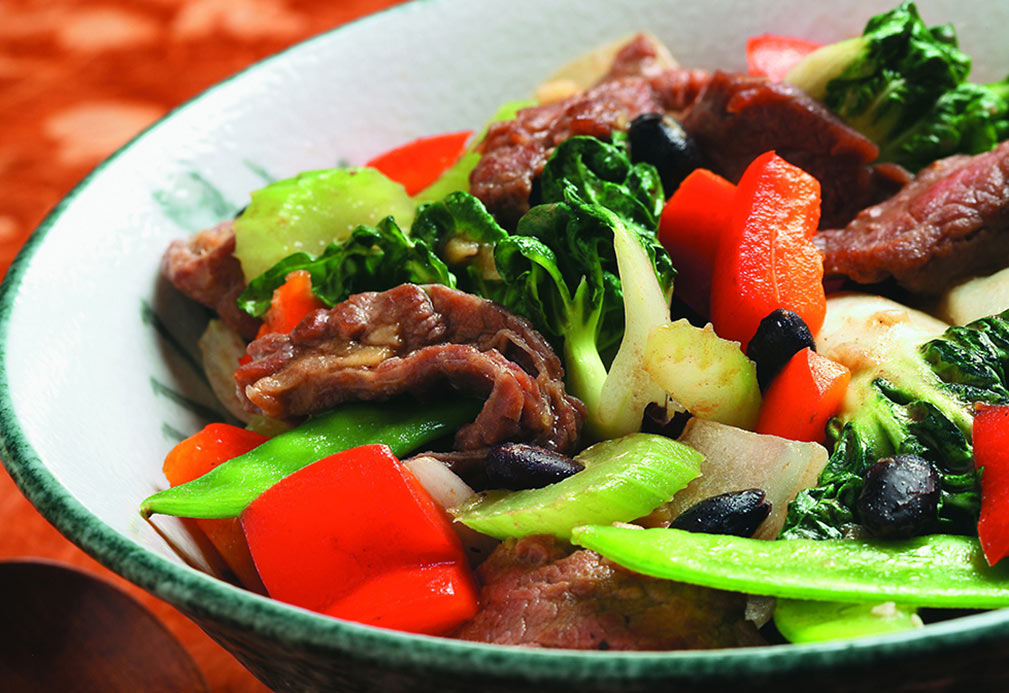 Ingredients
Marinade:
1/2 tsp salt 2 mL
1 tsp granulated sugar 5 mL
1 clove garlic minced
1 tsp minced ginger 5 mL
1 1/2 Tbsp oyster sauce 20 mL
1 Tbsp Shoa Hsing rice cooking wine or dry sherry 15 mL
1 tsp dark soy sauce 5 mL
1/2 tsp sesame oil 2 mL
1 1/2 tsp cornstarch 7 mL
pinch of ground white pepper
Stir-Fry:
8 oz flank steak, thinly sliced across the grain 225g
3 Tbsp canola oil 45 mL
2 Tbsp finely chopped ginger 30 mL
2 tsp minced garlic 10 mL
2 Tbsp fermented black beans, rinsed and drained well 30 mL
1 medium onion, cut into 1-inch dice
2 stalks celery, thinly sliced on the bias
4 oz snow or snap peas 125g
2 cups Bok Choy or Napa Cabbage, cut into 2-inch pieces 500 mL
1 medium red pepper, cut into 1/2 dice
Instructions
1. In mixing bowl, combine salt, granulated sugar,garlic, minced ginger, oyster sauce, cooking rice wine, soy sauce, sesame oil, cornstarch and white pepper. Add beef and mix well, allow to rest for at least 30 minutes.
2. Heat large flat bottom wok or skillet over high heat. Swirl in 1 1/2 Tbsp (20 mL) canola oil and chopped ginger; stir fry for 10 seconds. Add garlic and black beans; stir fry for 1 minute. Add beef and marinade, spread to thin layer on wok, cook for 30 seconds and stir fry for about a minute until set but not cooked thoroughly. Remove from wok and set aside on warm plate.
3. Add remaining oil to wok and add vegetables. Stir fry for 2 minutes or until slightly softened and return beef and juices to wok. Stir fry until the beef is cooked to desired doneness. Transfer to warm serving platter.
Yield
6 servings.
serving size
3/4 cup (175 mL).
nutritional analysis
Per Serving
Calories
170
Total Fat
10 g
Saturated Fat
1.5 g
Cholesterol
25 mg
Carbohydrates
9 g
Fiber
2 g
Sugars
4 g
Protein
10 g
Sodium
410 mg
Potassium
342 mg