Chicken With Ginger and Cashews
This classic Cantonese stir-fry traditionally uses cashews that are deep fried. A healthier approach is to oven roast the nuts which brings out more flavor of the cashews. Young ginger is available mostly in the spring and summer and is more tender and milder in flavor than the regular ginger that is found year round. Young ginger is pale yellow and does not require peeling and has pink-tipped shoots. If you find young ginger, reduce the amount by half.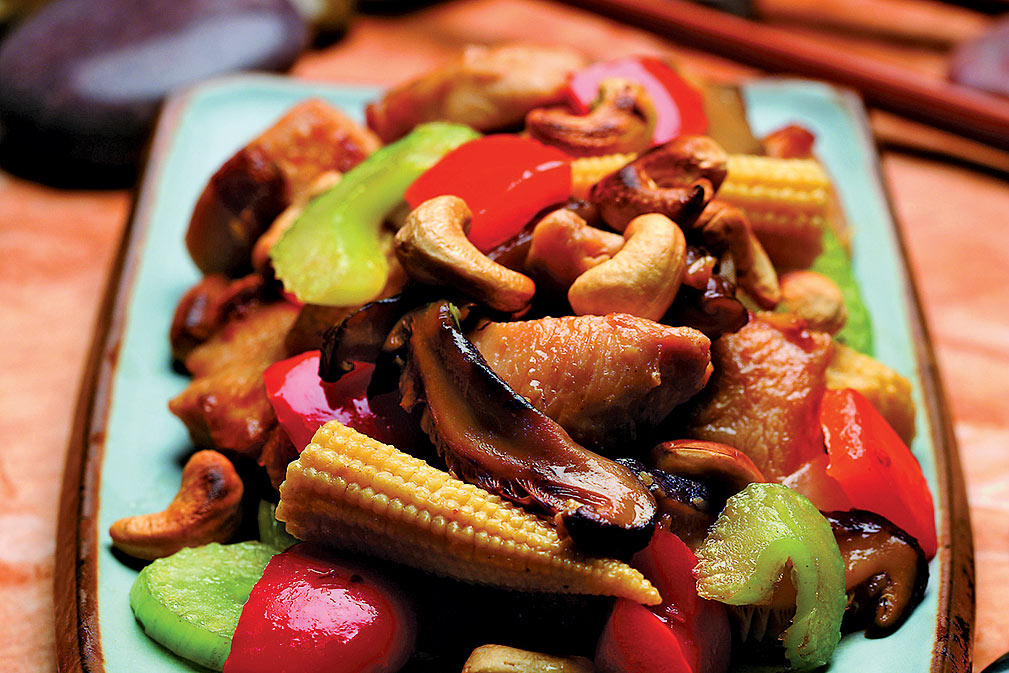 Ingredients
6-8 Chinese dried mushrooms
1 lb skinless, boneless chicken breasts or thighs 500g
3 Tbsp sodium reduced soy sauce 45 mL
1 1/2 tsp Shoa Hsing rice cooking wine, or dry sherry 7 mL
1 1/2 tsp cornstarch 7 mL
1/2 tsp granulated sugar 2 mL
1/2 tsp sea salt 2 mL
1 cup raw cashews (about 4 oz/115g) 250 mL
3 Tbsp canola oil 45 mL
8 thin slices fresh young ginger
1 1/2 tsp minced garlic 7 mL
1/2 small onion, cut in to 1/2 inch dice
2 celery stalks, sliced on the bias 1/8 inch thick
1 red bell pepper, cut into 1 inch dice
1/2 cup whole tined baby corn, drained, cut into 1/2 inch pieces (optional) 125 mL
Instructions
1. In a medium bowl, rehydrate the mushrooms in 1/3 cup (75 mL) warm water for 20 to 30 minutes or until softened. Drain and squeeze out water, reserving the soaking liquid. Cut off woody stems and thinly slice caps.
2. Preheat oven to 375 °F (190 °C). Cut the chicken into 1 inch cubes. In a medium bowl, combine the chicken, 2 Tbsp (30 mL) of soy sauce, rice wine or sherry, cornstarch, sugar and salt. Mix well to combine and set aside.
3. Place the cashews on a baking sheet and bake for 7 to 10 minutes, or until golden brown. Remove and set aside to cool.
4. Heat a 14 inch flat bottomed wok or skillet over high heat until hot but not smoking. Add 2 Tbsp (30 mL) canola oil and half of the ginger and stirfry for 30 seconds. Add the marinated chicken, spreading it on the wok keeping undisturbed for a couple minutes or until chicken starts to brown. Then, use a metal spatula to stirfry for a further 1 to 2 minutes, or until the chicken is browned on all sides, but not cooked through. Transfer chicken to a warmed plate and set aside.
5. Replace wok to the stove and heat over high heat. Add remaining canola oil to the wok and then add the remaining ginger, garlic, onion, celery, red peppers, corn and mushrooms. Stirfry for 1 minute. Add reserved mushroom liquid and stirfry till almost all the liquid has evaporated, about another minute.
6. Return the chicken to the wok with any collected juices, with the cashews and remaining soy sauce; stir fry 1 to 2 minutes, or until chicken is cooked through. Transfer to a warm serving platter.
Yield
6 servings as part of a multi-course dinner
serving size
nutritional analysis
Per Serving
Calories
350
Total Fat
19 g
Saturated Fat
3 g
Cholesterol
70 mg
Carbohydrates
16 g
Fiber
2 g
Protein
30 g
Sodium
730 mg