Spiced Beef on Toasted Almond Quinoa
Beef has been around for ages but quinoa is relatively new on our food radars.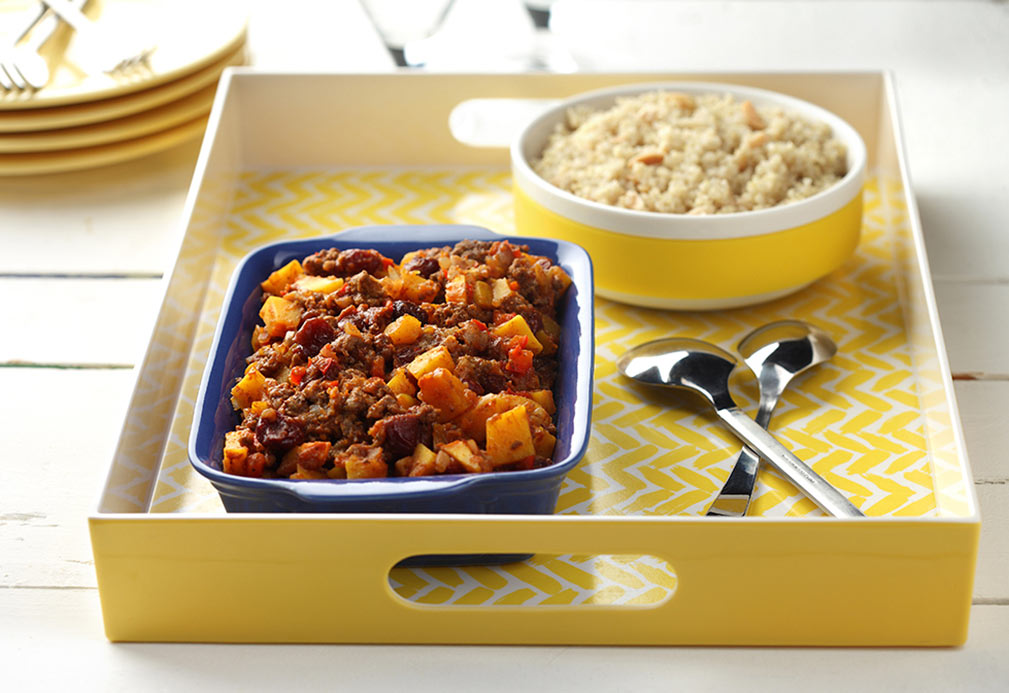 Ingredients
1 Tbsp canola oil 15 mL
12 oz extra lean ground beef 350 g
1 cup diced onions 250 mL
1 cup diced red bell pepper or mixed peppers 250 mL
1 medium yellow squash, chopped
1 can (8 oz) no-salt-added tomato sauce 250 g
1/2 cup dried cherries or raisins 125 mL
3/4 tsp ground cinnamon 4 mL
1/4 tsp ground all-spice 1 mL
1/2 tsp ground cumin 2 mL
1/2 tsp salt 2 mL
1 1/2 cups water 375 mL
2/3 cup dry quinoa 150 mL
1 Tbsp canola oil 15 mL
1/4 cup slivered almonds, toasted 60 mL
Instructions
1. In large nonstick skillet, heat 1 Tbsp (15 mL) of canola oil over medium-high heat. Brown beef; add onions, bell peppers and squash and cook 4 minutes or until onions are translucent, stirring frequently. Stir in tomato sauce, cherries or raisins, cinnamon, all-spice, cumin and salt. Reduce heat, cover and simmer 15 minutes or until onions are tender.
2. In medium saucepan, bring water and quinoa to boil over high heat, reduce heat, cover and simmer 12 minutes or until liquid is absorbed. Remove from heat, stir in remaining canola oil and almonds.
3. To serve, place quinoa on serving platter and top with beef mixture.
Yield
4 servings
serving size
1 cup (250 mL) beef mixture and 1/2 cup (125 mL) quinoa mixture
nutritional analysis
Per Serving
Calories
420
Total Fat
16 g
Saturated Fat
2 g
Cholesterol
45 mg
Carbohydrates
46 g
Fiber
7 g
Protein
25 g
Sodium
360 mg