Beef Wrapped Asparagus Spears with Sesame and Chipotle Sauce
Start off a meal or party with this impressive, flavor-packed appetizer. Canola oil is the best choice for searing here because of its high smoke point (468 °F).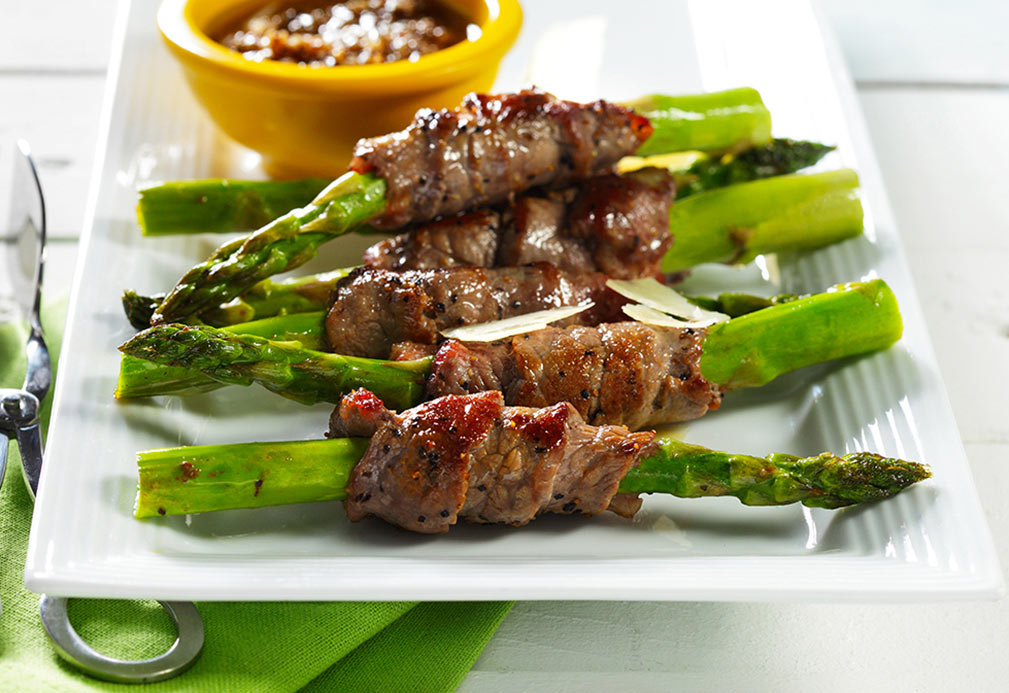 Ingredients
Sesame Sauce:
3 Tbsp sesame seeds, lightly toasted 45 mL
1 clove garlic, minced
1 marinated jarred chipotle chile
1/8 tsp salt 0.5 mL
1/2 cup canola oil 125 mL
Beef-Wrapped Asparagus:
1 strip loin steak (3/4 lb/350 g), semi frozen
1/8 tsp salt 0.5 mL
1/8 tsp ground black pepper 0.5 mL
12 green asparagus, blanched in salted water
1 Tbsp canola oil 15 mL
1 clove garlic, finely chopped
1/2 cup Parmigiano Reggiano cheese, shaved 125 mL
Instructions
To make sauce: In food processor, combine all sauce ingredients. Process for 1 minute. Set aside in refrigerator to allow flavors to infuse.
To prepare beef-wrapped asparagus:
1. Season semi-frozen beef steak with salt and pepper, cut into 12 long strips 1/4- x 6-inch (0.5- x 15-cm) each. Wrap each beef strip around one asparagus spear.
2. In large sauté pan, heat canola oil medium-high heat, add garlic and wrapped beef asparagus. Cook until beef is nicely browned.
3. Remove to plate. Brush beef-wrapped asparagus with sesame sauce and garnish with Parmesan curls (use vegetable peeler to make curls).
Yield
12 servings
serving size
1 asparagus and 1 steak strip
nutritional analysis
Per Serving
Calories
70
Total Fat
6 g
Saturated Fat
1 g
Cholesterol
5 mg
Carbohydrates
1 g
Fiber
1 g
Sugars
0 g
Protein
3 g
Sodium
170 mg
Potassium
58 mg