Bistro Chicken Pasta Salad
This dish makes a great lunch or light dinner that can be ready to go for hungry kids or spontaneous guests. You may want to double the recipe because it goes so fast.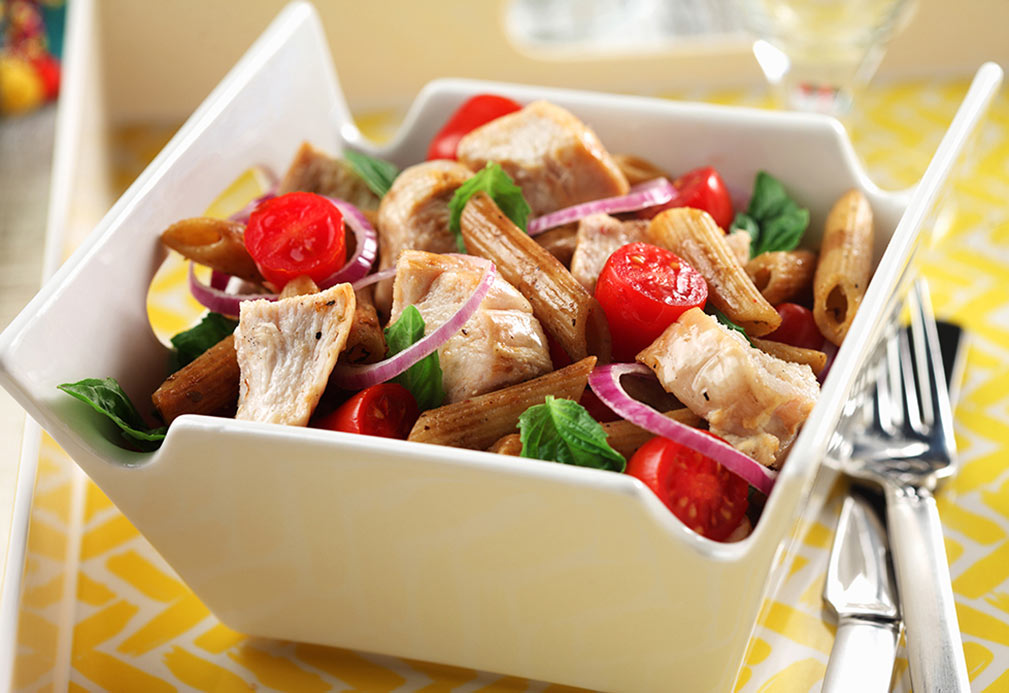 Ingredients
1/3 cup balsamic vinegar 75 mL
1 Tbsp Dijon mustard 15 mL
2 tsp canola oil 10 mL
1 garlic clove, minced    
2 cups whole wheat penne pasta, cooked 500 mL
3 boneless, skinless chicken breasts, grilled or cooked, cut into cubes
1/4 cup grated or shaved Parmesan cheese 60 mL
12 cherry tomatoes, sliced in half
1/2 small red onion, sliced in rings
1/4 tsp ground oregano 1 mL
1/4 tsp freshly ground black pepper 1 mL
1/2 cup freshly chopped basil 125 mL
Instructions
1. In small bowl, whisk together balsamic vinegar, Dijon mustard, canola oil and garlic. Set aside.
2. In large bowl, combine pasta, chicken, Parmesan, tomatoes, onion, oregano and pepper, tossing gently. Stir in balsamic mixture and basil, tossing gently again.
3. Serve immediately or cover and refrigerate up to two days.
Yield
6 servings
serving size
2/3 cup (150 mL)
nutritional analysis
Per Serving
Calories
270
Total Fat
6 g
Saturated Fat
1 g
Cholesterol
40 mg
Carbohydrates
34 g
Fiber
4 g
Sugars
5 g
Protein
21 g
Sodium
190 mg
Potassium
377 mg