Black Bean Burgers with Avocado Lime Mayonnaise
Jazz up these yummy burgers with avocado-lime mayonnaise and you'll have a vegetarian dish that even the biggest meat eaters you know can't resist.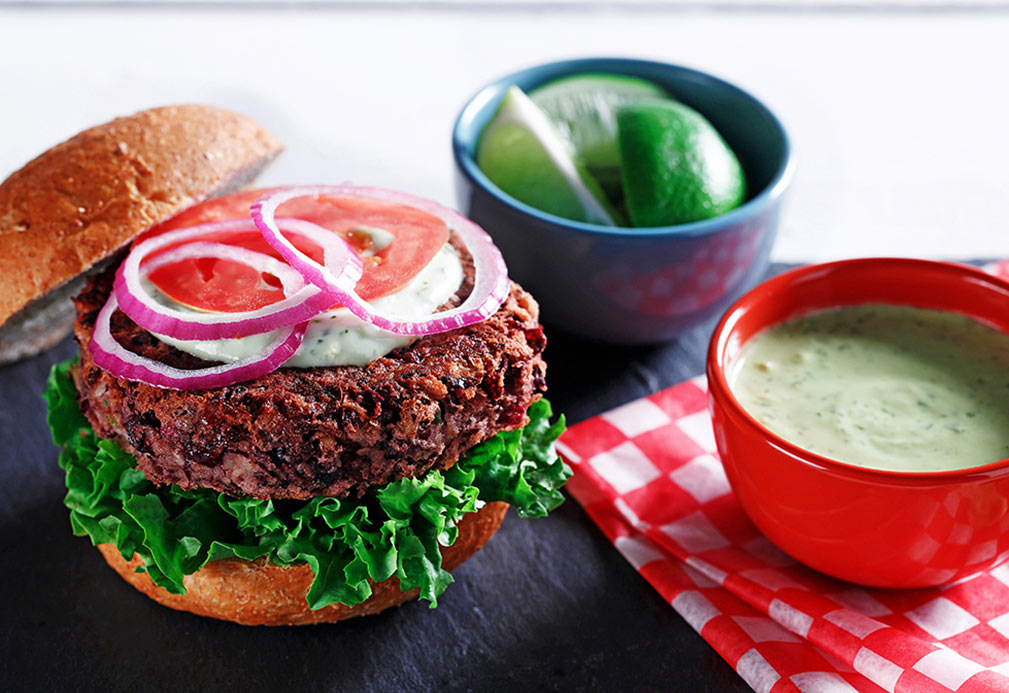 Ingredients
Mayonnaise
1/2 ripe medium avocado, peeled and pitted
2 Tbsp canola mayonnaise 30 mL
1 Tbsp fresh lime juice 15 mL
1 Tbsp water 15 mL
1/4 cup chopped fresh cilantro leaves 60 mL
 Burgers
1 can (15 oz/426 mL) black beans, rinsed and drained
1/2 of (15 oz/426 mL) can kidney beans, rinsed and drained
1/2 cup finely chopped green bell pepper 125 mL
1/3 cup quick-cooking oats 75 mL
2 large egg whites
1 Tbsp canola oil 15 mL
1/8 - 1/4 tsp cayenne pepper .5 - 1 mL
Assembly
canola oil cooking spray
4 whole-wheat hamburger buns, split and toasted
1/4 cup thinly sliced red onion 60 mL
4 tomato slices
4 lettuce leaves
4 lime wedges (optional)
Instructions
1. Place canola mayonnaise ingredients in a blender, secure lid, and puree until smooth.
2. Place beans in a gallon-size resealable bag. Using a meat mallet, pound beans to a coarse texture, resembling lumpy mashed potatoes. Place beans in a medium bowl and  add bell pepper, oats, egg whites, canola oil, and cayenne pepper. Mix well and shape into four patties.
3. Coat a large nonstick skillet with canola oil cooking spray and heat over medium heat. Add patties and cook 4 minutes on each side or until they begin to lightly brown. The patties will be fragile, so be sure to turn them gently.
4. To assemble, spoon 1 Tbsp (15 mL) canola mayonnaise mixture on each bun half. Top each bottom bun with burger, onion, a tomato slice, and a lettuce leaf. Place bun tops over each. Serve with lime wedges..
Fresh tip: If desired, omit the buns and serve the patties on the lettuce leaf, tomato slice, and onion. Spoon the mayonnaise mixture on top of the patties and serve with lime wedges.
Yield
4 servings
serving size
1 burger
nutritional analysis
Per Serving
Calories
480
Total Fat
12 g
Saturated Fat
1.5 g
Cholesterol
0 mg
Carbohydrates
76 g
Fiber
15 g
Sugars
5 g
Protein
25 g
Sodium
500 mg
Potassium
715 mg