Braised Greens
Serve as a sublime side dish along with lean cuts of pork, roasted chicken or meaty fish dishes such as salmon or tuna steaks. Using canola oil helps keep saturated fat to a minimum in this heart-healthy recipe.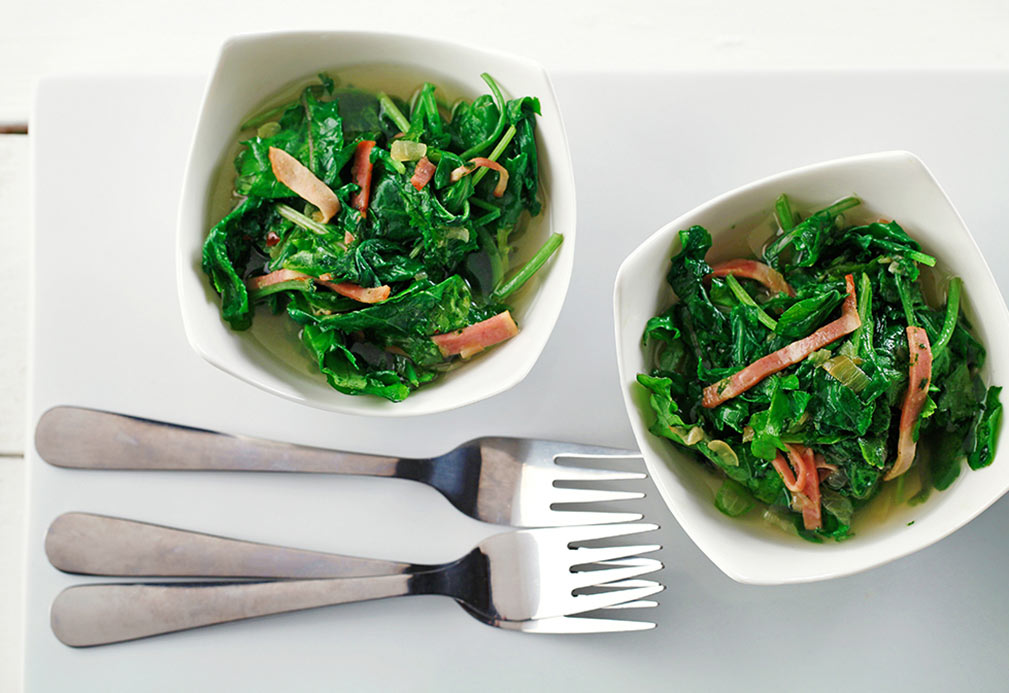 Ingredients
1 lb fresh greens (collard, mustard or turnip greens; or kale) 500 g
2 Tbsp canola oil 30 mL
2 slices turkey bacon, chopped
1 cup finely diced onion 250 mL
1/4 tsp salt 1 mL
2 garlic cloves, minced
1/2 tsp crushed red pepper flakes 2 mL
1 cup reduced-sodium chicken broth 250 mL
1 Tbsp apple cider vinegar 15 mL
1 Tbsp granulated sugar 15 mL
Instructions
1. Wash greens and remove tough center ribs. Cut leaves into 1-inch strips. (Or purchase pre-washed, stemmed and trimmed fresh greens.)
2. Heat large sauce pot over medium-high heat; add oil and bacon and cook until beginning to brown, about 3 minutes.
3. Stir in onions and salt; cook until tender, about 5 minutes. Add garlic and pepper flakes, and cook 1 minute more.
4. Add broth, stirring to scrape up any browned bits on bottom of pan.
5. Add greens to pot. If necessary, add in batches, stirring each batch to wilt slightly before adding more. Cover and cook until tender, about 25 to 35 minutes.
6. Stir in vinegar and sugar, and then lower heat to medium. Cover and cook 5 minutes more. Taste and then balance flavors as desired with salt, pepper flakes, vinegar and sugar. Serve hot.
Tip: For a hint of decadence, stir in 2 tablespoons of low-fat cream cheese and pulse briefly in a food processor for creamed greens.
Yield
6
serving size
1/2 cup (125 mL)
nutritional analysis
Per Serving
Calories
100
Total Fat
6 g
Saturated Fat
0.5 g
Cholesterol
5 mg
Carbohydrates
9 g
Fiber
3 g
Sugars
4 g
Protein
4 g
Sodium
210 mg
Potassium
171 mg