Crisp Cucumber with Nutty Peas
This summer recipe is easy to put together, and uses up those pervasive cucumbers from your garden patch. It is downright cool, crunchy, hot, nutty and entirely addictive – you are going to love it!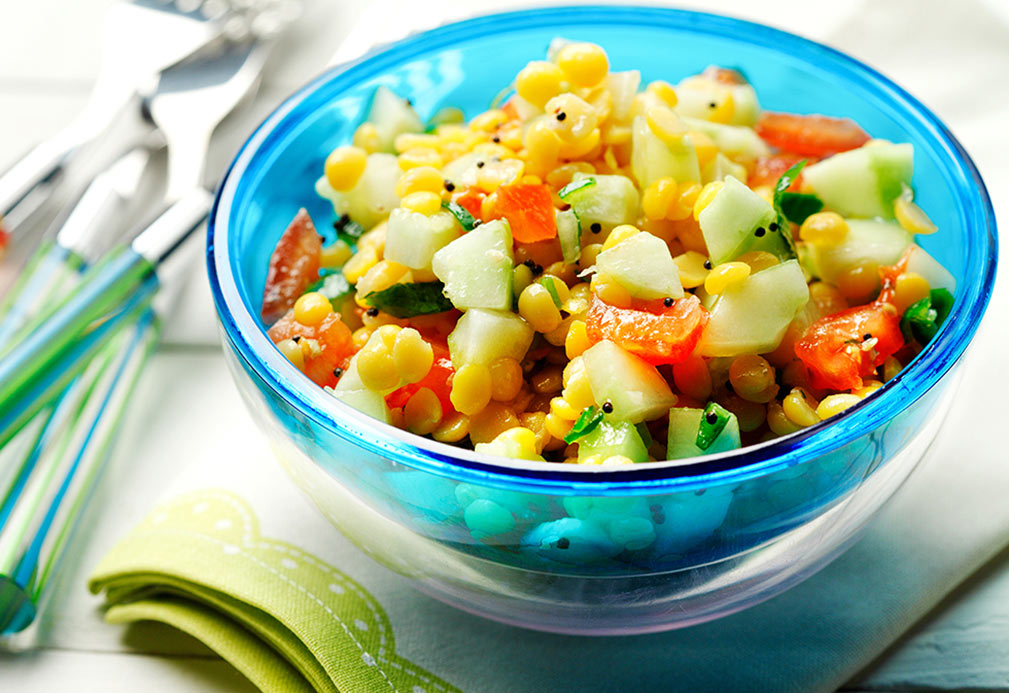 Ingredients
1 cup yellow split peas, rinsed 250 mL
3 Tbsp canola oil 45 mL
1 tsp black or yellow mustard seeds 5 mL
2 large (about 1½ lbs/750 g) cucumbers, peeled, seeds discarded and cut into 1/2-inch (1-cm) cubes
2 fresh green Serrano chiles, stems discarded and finely chopped (do not remove seeds)
1 medium tomato, cored and cut into 1/2-inch (1-cm) cubes
1/4 cup finely chopped fresh cilantro 60 mL
1 tsp coarse kosher or sea salt 5 mL
juice from 1 medium lime
Instructions
1. In small saucepan, bring yellow split peas and 1 quart (1 L) water to rolling boil over medium-high heat. Skim off and discard any foam that rises to top. Lower heat and simmer briskly until peas are tender, but still firm-looking, about 20 to 25 minutes. Drain and run under cold water to prevent further cooking. Transfer peas to medium bowl.
2. In small skillet, heat canola oil over medium-high heat.  Once oil appears to shimmer, add mustard seeds, cover pan, and cook until seeds have stopped popping and are golden brown, about 30 seconds. Scrape oil and seeds into bowl containing peas.
3. Add cucumbers, chiles, tomato, cilantro, salt and lime juice. Stir well and serve at room temperature or chilled.
Yield
8 servings
serving size
1/2 cup (125 mL)
nutritional analysis
Per Serving
Calories
150
Total Fat
6 g
Saturated Fat
0 g
Cholesterol
0 mg
Carbohydrates
19 g
Fiber
1 g
Protein
7 g
Sodium
150 mg