Broccoli Black Bean Salad
Every pantry should have a few cans of black beans on hand to use in quick salads like this one! Canola oil keeps this dish low in saturated fat.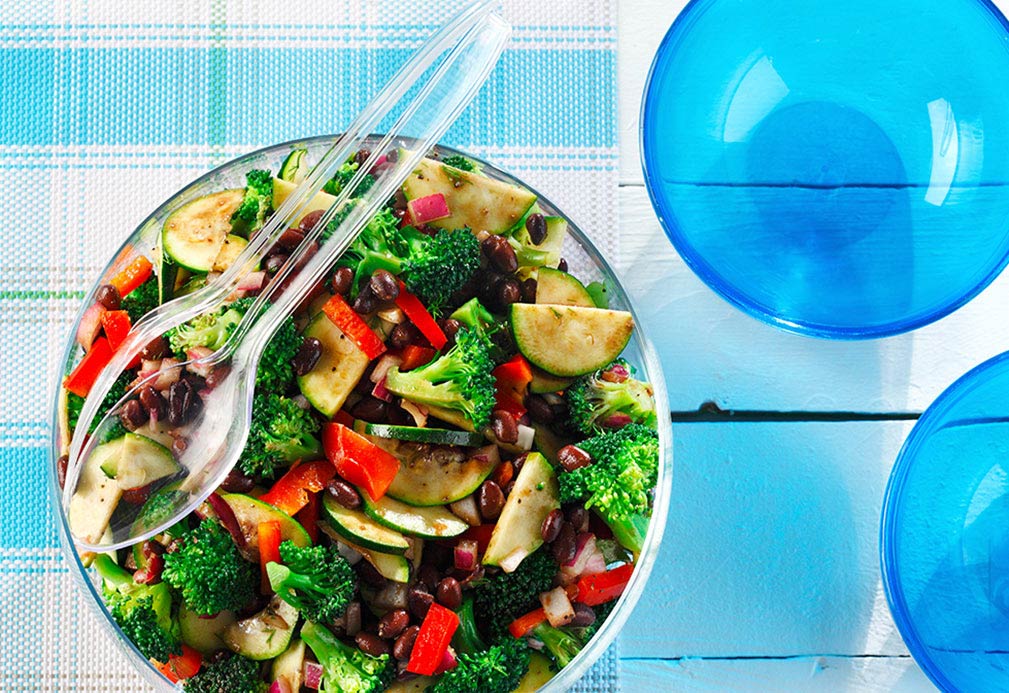 Ingredients
3 cups broccoli florets 750mL
1 zucchini, sliced
1 sweet red pepper, diced
1 small red onion, diced
1 can (14 oz/398 mL) sodium-reduced black beans, drained and rinsed
3 Tbsp canola oil 45 mL
3 Tbsp balsamic vinegar 45 mL
1 Tbsp Dijon mustard 15 mL
1 Tbsp chopped fresh dill 15 mL
1/2 tsp salt 2 mL
1/4 tsp pepper 1 mL 
Instructions
1. Rinse broccoli florets in strainer. Steam broccoli for 4 minutes or until tender crisp. Refresh under cold water and drain. 
2. In large bowl, mix together broccoli, zucchini, red pepper, red onion and black beans. 
3. In small bowl, whisk together canola oil, vinegar, mustard,dill, salt and pepper. 
4. Pour dressing over salad and toss to combine. 
Yield
6 servings
serving size
1 cup (250 mL)
nutritional analysis
Per Serving
Calories
170
Total Fat
7 g
Saturated Fat
0.5 g
Cholesterol
0 mg
Carbohydrates
26 g
Fiber
8 g
Protein
7 g
Sodium
540 mg