Lime Zested Tomatillo Black Bean Salad
Tomatillos give a bite to this Latin-inspired dish, so the lime juice and zest are only needed as accents. Canola oil's mild taste lets these lively flavors come to the fore.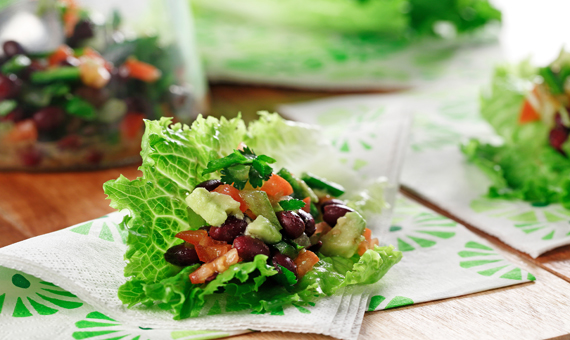 Ingredients
2 medium tomatillos, papery skin removed and finely chopped
1/2 medium poblano chili pepper, seeded and finely chopped
2 medium plum tomatoes, finely chopped
1/2 of 15 oz/426 mL can black beans, rinsed and drained
2 -3 Tbsp chopped fresh cilantro leaves (optional) 30-45 mL
1 tsp lime zest 5 mL
1 ripe medium avocado, peeled, pitted and diced
1 Tbsp fresh lime juice 15 mL
1 Tbsp canola oil 15 mL
1/4 tsp salt 1 mL
6 Boston bibb lettuce leaves or medium romaine leaves
Instructions
1. In medium bowl, combine tomatillos, poblano pepper, tomatoes, beans, cilantro and zest.
2. When ready to serve, add remaining ingredients and stir gently, yet thoroughly, until well blended. Serve on lettuce leaves.
Yield
6 servings
serving size
1/2 cup (125 mL)
nutritional analysis
Per Serving
Calories
100
Total Fat
6 g
Saturated Fat
1 g
Cholesterol
0 mg
Carbohydrates
9 g
Fiber
4 g
Protein
3 g
Sodium
130 mg