Beet Salad with Mint and Spices
Maximize the flavor by toasting spices with a little canola oil. For a quick version of the recipe replace fresh beets with 1 can (14.5 oz/411 g) beets!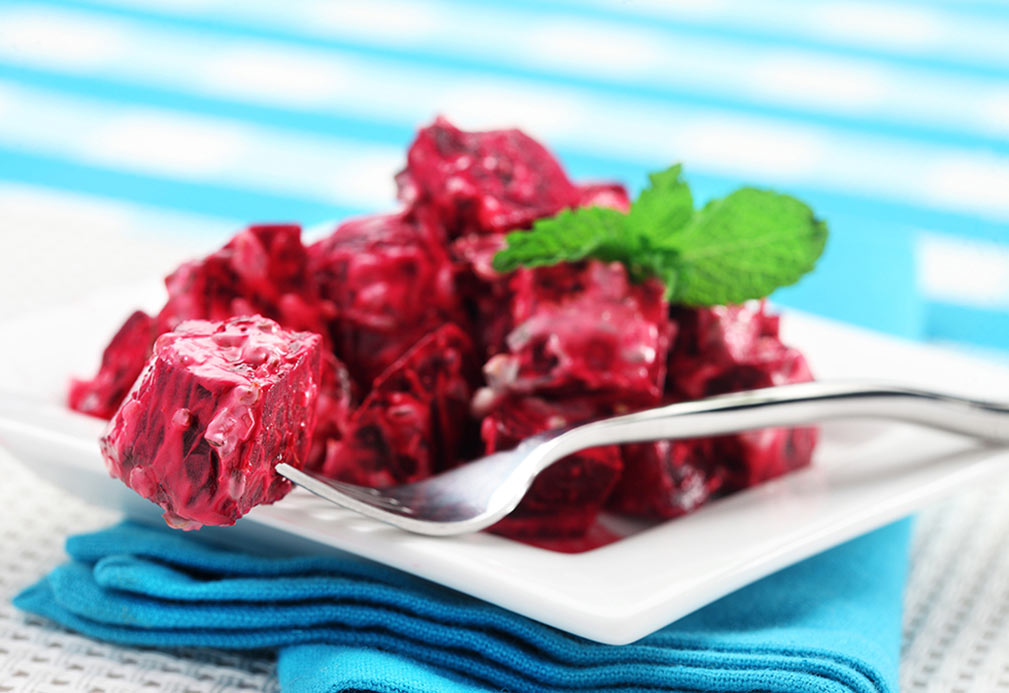 Ingredients
1 lb beets (about 4-5 medium beets of equal size) 500 g
1/4 tsp salt 1 mL
1 1/2 tsp coriander seeds 7 mL
1 1/2 tsp cumin seeds 7 mL
1 1/2 tsp caraway seeds 7 mL
1 Tbsp canola oil 15 mL
1/3 cup low-fat yogurt 75 mL
1/4 tsp coarsely ground black pepper 1 mL
1/2 cup finely chopped fresh mint 125 mL
2 Tbsp finely chopped shallots 30 mL
Instructions
1. Preheat oven to 375 ºF (190 ºC). Wash beets and cut away tops and tails. Wrap in foil, place on small baking sheet and bake in preheated oven for about 45 minutes or until tender. Unwrap, let cool and peel under running water. Cut into bite-size chunks and place in glass or ceramic bowl; add salt and toss.
2. Coarsely crush coriander seeds, cumin seeds and caraway seeds in a mortar and pestle or with a rolling pin or spice grinder. Heat a small skillet over medium high heat and toast spices for 30-45 seconds or until fragrant.  Remove from heat, add canola oil and stir to combine. Cool.
3. In a small bowl, combine yogurt, spice mixture, black pepper, mint and shallots and stir to combine. Pour over beets and stir to coat.
Yield
4 servings
serving size
2/3 cup (150 mL)
nutritional analysis
Per Serving
Calories
110
Total Fat
4.5 g
Saturated Fat
0 g
Cholesterol
0 mg
Carbohydrates
17 g
Fiber
4 g
Protein
3 g
Sodium
250 mg