Canola Oil Mayonnaise
This classic recipe was developed at The Culinary Institute of America by Chef-Instructor Brenda La Noue. Canola oil's neutral flavor and light texture is perfect for homemade mayonnaise. See Chef Almir Da Fonseca prepare the recipe in the video.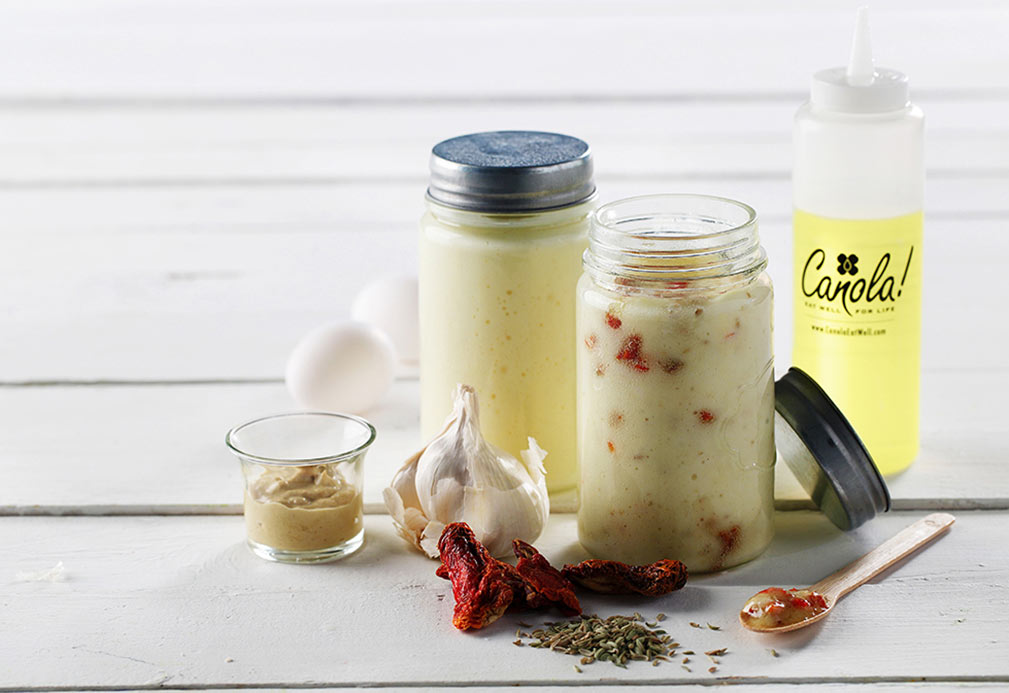 Ingredients
2 pasteurized egg yolks
2 Tbsp white wine vinegar 30 mL
2 Tbsp water 30 mL
1 tsp Dijon mustard 5 mL
1 1/2 cups canola oil 375 mL
1/2 tsp salt 2 mL
1/4 tsp ground black pepper 1 mL
2 tsp lemon juice 10 mL
Instructions
1. In bowl, combine yolks, vinegar, water and mustard. Whisk together until mixture is slightly foamy.
2. Gradually add canola oil in a thin stream, constantly beating with whisk until incorporated and mayonnaise is thick.
3. Add salt, pepper and lemon juice.
4. Refrigerate mayonnaise immediately. Use within one week.
Tip: To make sun-dried tomato mayonnaise, add 1/2 cup (125 mL) chopped sun-dried tomatoes, 1 tsp (5 mL) minced garlic and 1 tsp (5 mL) toasted, ground fennel.
Yield
2 cups (500 mL)
serving size
1 Tbsp (15 mL)
nutritional analysis
Per Serving
Calories
130
Total Fat
14 g
Saturated Fat
1 g
Cholesterol
15 mg
Carbohydrates
0 g
Fiber
0 g
Sugars
0 g
Protein
0 g
Sodium
55 mg
Potassium
2 mg