Chicken and Mango
Mangoes have not always been a major cooking ingredient in Chinese cooking but with the introduction of modern fusion cuisine, it has become a popular staple. Traditionally candied walnuts would have been the garnish for this type of dish but here macadamia nuts provide a nice balance. Use a slightly under-riped mango as it will hold up its texture better when stir-frying.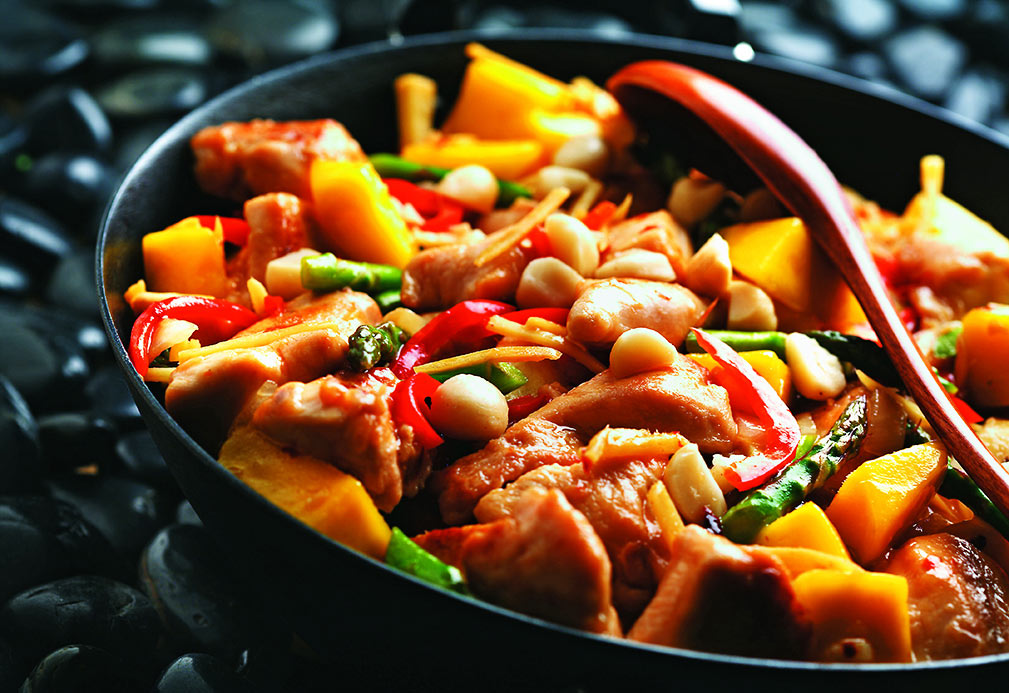 Ingredients
1 Tbsp cornstarch 15 mL
1 tsp sodium reduced soy sauce 5 mL
1 Tbsp Shao Hsing rice cooking wine or dry sherry 15 mL
1 lb skinless, boneless chicken breasts or thighs 500g
1/3 cup chicken broth 75 mL
1 Tbsp fresh lemon juice 15 mL
2 tsp fish sauce 10 mL
1 Tbsp oyster sauce 15 mL
2 tsp granulated sugar 10 mL
3 Tbsp canola oil 45 mL
2 tsp minced garlic 10 mL
3 Tbsp finely julienned ginger 45 mL
1/2 tsp red chili flakes 2 mL
1/2 small onion, cut into 1/2 inch dice
1/4 cup julienned red bell pepper 50 mL
8 asparagus, cut on the bias into 1 inch pieces
1 tsp cornstarch mixed with 1 Tbsp (15 mL) water 5 mL
1 medium mango, peeled, pitted and cut into 1 inch cubes
1/3 to 1/2 cup chopped macadamia nuts (optional) 75 to 125 mL
Instructions
1. In a medium-sized mixing bowl, combine 1 Tbsp (15 mL) cornstarch, soy sauce, rice cooking wine or sherry and 1 Tbsp (15 mL) of canola oil. Cut chicken into 1 inch cubes and add to marinade and mix well. Refrigerate uncovered for 30 seconds.
2. In small bowl, combine chicken broth, lemon juice, fish sauce, oyster sauce and granulated sugar. Set aside.
3. Heat a 14 inch flat bottomed wok or skillet over high heat until a bead of water vaporizes within 1 to 2 seconds of contact. Swirl 1 Tbsp (15 mL) of canola oil into wok and carefully add chicken mixture spreading it evenly in wok. Cook undisturbed for about 1 minute or until chicken starts to brown. Using metal spatula, stir-fry for 1 to 2 minutes or until chicken is lightly browned but not cooked through. Transfer to warm plate and set aside.
4. Add remaining 1 Tbsp (15 mL) canola oil to wok and swirl around. When hot, add the garlic, ginger and red chili flakes and stir-fry for 10 seconds. Add onion, bell pepper and asparagus and stir-fry for 1 minute. Add sauce mixture and stir-fry for another 30 seconds. Return chicken to wok and stir-fry for another 1 to 2 minutes or until chicken is just cooked through. Add cornstarch mixture and mango and toss to coat until sauce has thickened, about 30 seconds. Transfer to warm serving platter and sprinkle with nuts.
Yield
4 servings
serving size
nutritional analysis
Per Serving
Calories
460
Total Fat
24 g
Saturated Fat
3 g
Cholesterol
105 mg
Carbohydrates
20 g
Fiber
2 g
Protein
40 g
Sodium
510 mg