Caribbean Mango Chicken
Spruce up regular chicken breasts with this island-inspired recipe. The coconut milk, lemon zest and mango combine for a wonderful flavor.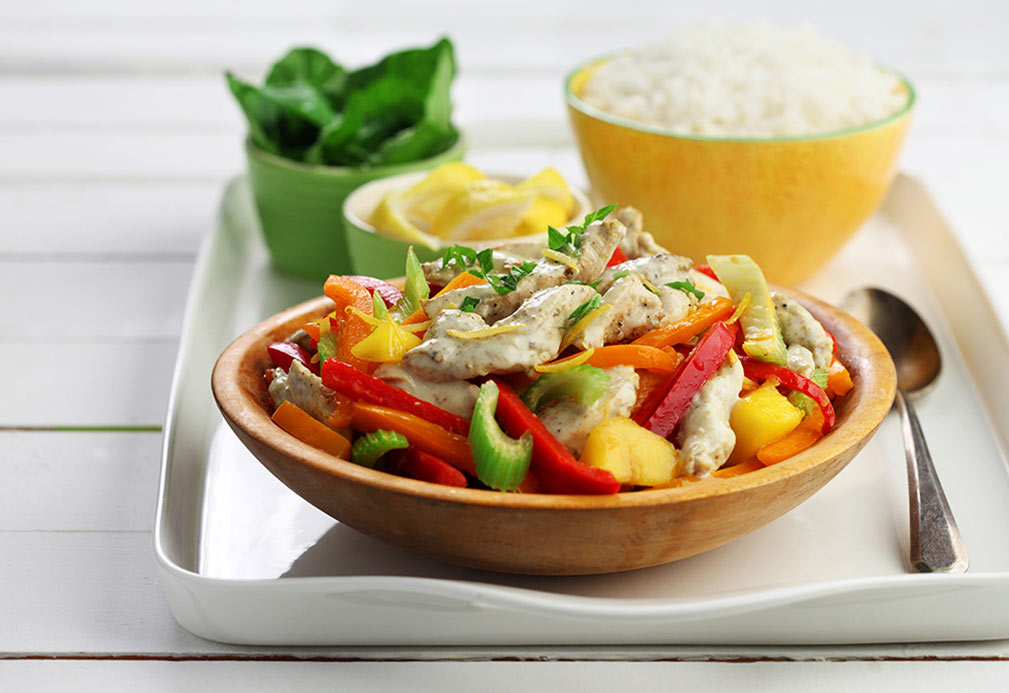 Ingredients
1 lb chicken breasts cut into strips 500 g
2 tsp curry powder 10 mL
1/2 tsp salt 2 mL
1/4 tsp pepper 1 mL
3 Tbsp canola oil, divided 45 mL
2 cloves garlic, minced
1 Tbsp grated fresh ginger 15 mL
1 red pepper cut into strips
1 yellow or orange pepper, cut into strips
2 stalks celery, cut on diagonal
1 can (14 oz/398 mL) light coconut milk
2 tsp lemon zest 10 mL
1 large mango, cut into bite-size pieces
2 Tbsp freshly chopped basil 30 mL
Instructions
1. Season chicken with curry powder, salt and pepper.
2. In large non-stick skillet, heat 2 Tbsp (30 mL) canola oil over medium-high heat. Sauté chicken until just cooked, about 7 to 8 minutes. Remove to plate and set aside.
3. Add 1 Tbsp (15 mL) canola oil to pan. Sauté garlic and ginger along with peppers and celery. Sauté 5 to 6 minutes. Stir occasionally.
4. Add coconut milk, lemon zest and mango, along with chicken. Heat through. Stir in basil.
5. Serve with short grain rice.
Yield
6 servings
serving size
1 cup (250 mL)
nutritional analysis
Per Serving
Calories
340
Total Fat
25 g
Saturated Fat
15 g
Cholesterol
40 mg
Carbohydrates
15 g
Fiber
3 g
Protein
18 g
Sodium
260 mg