Coconut Jasmine Rice
Sweet rice, warm fruit and fresh basil … a divine combination that could be dessert! Sautéing the mango slices in neutral-tasting canola oil is key to keeping the tropical flavors in this dish clean and clear. The rice goes well with Turkey and Plantain Stuffed Poblano Chiles.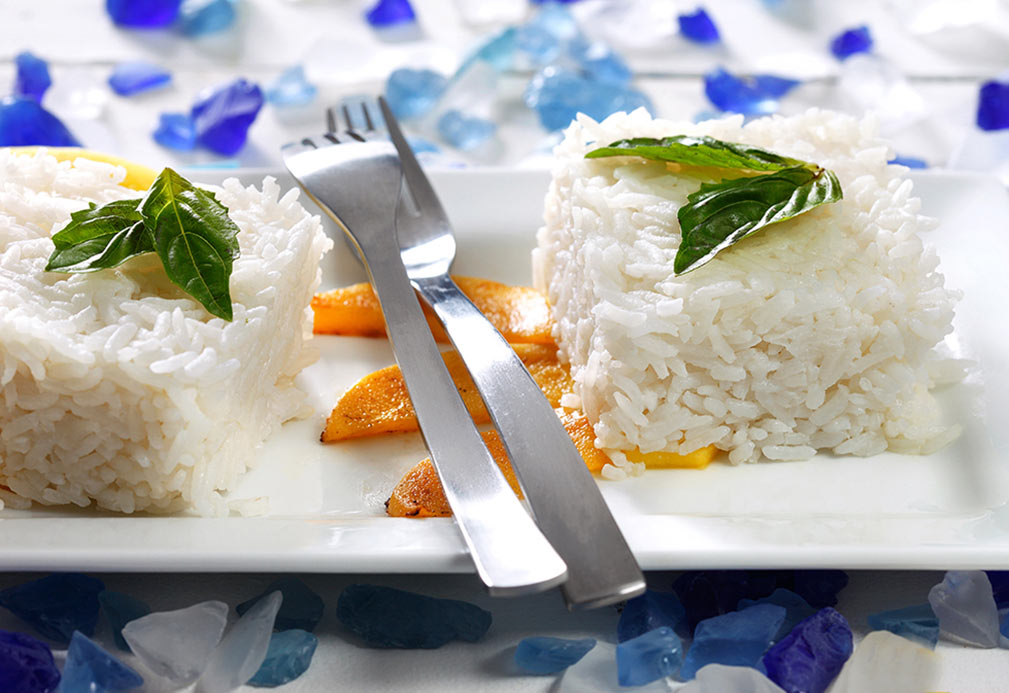 Ingredients
1 cup jasmine rice, rinsed in water 250 mL
1 cup of water 250 mL
1 can (14 oz/ 398 mL) light coconut milk
1/8 tsp salt 0.5 mL
1 Tbsp canola oil 15 mL
1 mango, cut in quarters
1 Tbsp fresh basil leaves, chopped 15 mL
Instructions
1. In saucepan, cook rice with water, coconut milk and salt over medium heat. Once rice boils, lower temperature and continue to cook, covered, until rice is smooth and fluffy, about 20 minutes. Remove from heat and set aside.
2. In sauté pan, warm canola oil on medium heat and lightly sauté mango pieces until they turn light golden color. Add chopped basil, then remove from heat.
3. Serve rice in bowls topped with mango pieces and fresh basil leaves.
Yield
4 servings
serving size
1 cup (250 mL)
nutritional analysis
Per Serving
Calories
140
Total Fat
4 g
Saturated Fat
2 g
Cholesterol
0 mg
Carbohydrates
24 g
Fiber
1 g
Sugars
6 g
Protein
2 g
Sodium
40 mg
Potassium
70 mg