Skewered Lime Spiced Chicken
Lime spiced skewers of chicken - perfect for your next barbecue!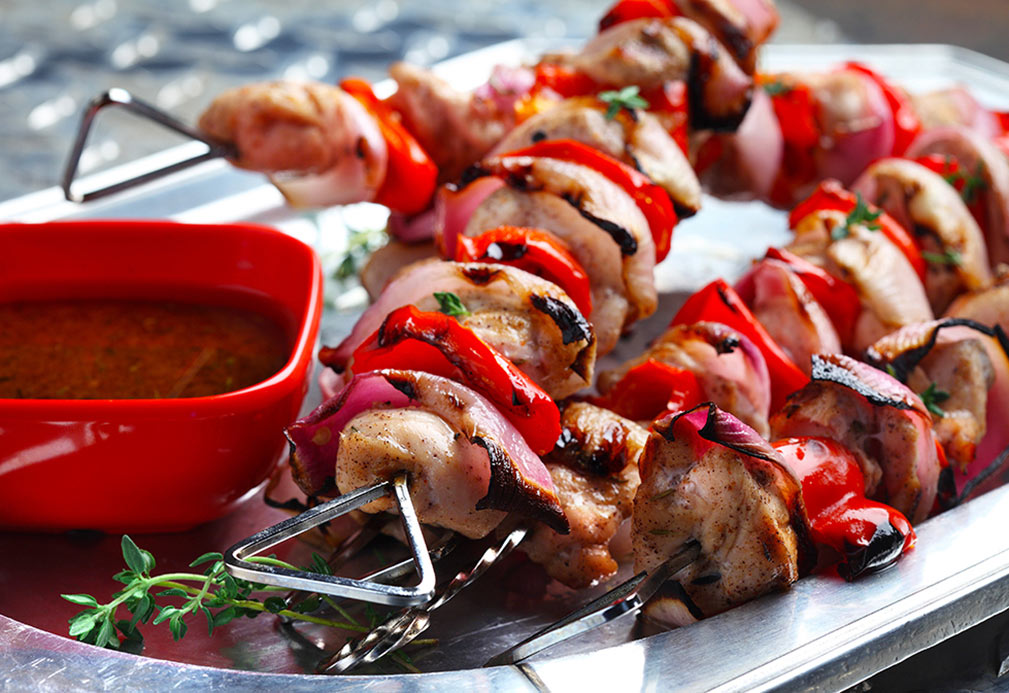 Ingredients
Marinade
3 medium limes
1/3 cup canola oil 75 mL
2 medium garlic cloves, minced
2 tsp ground ginger 10 mL
3/4 tsp ground allspice 4 mL
3/4 tsp dried thyme leaves 4 mL
1/4 tsp cayenne pepper 1 mL
1/2 tsp salt 2 mL
six 12-inch metal or bamboo skewers
Kabobs
12 chicken tenders, (1 1/2 lbs/750g total), cut into thirds (36 pieces)
2 medium yellow or red onions (8 oz/250 g total), quartered and layers separated (36 layers)
2 medium red bell peppers, cut into 1-inch pieces (36 pieces)
canola oil cooking spray
Instructions
1. In a small bowl, squeeze juice from two limes. Cut remaining lime into 6 wedges. Add canola oil, garlic, ginger, allspice, thyme, cayenne pepper, and salt to lime juice. Whisk together. Place chicken in large, resealable plastic bag with half of marinade mixture. Marinate chicken overnight or for at least 8 hours, turning occasionally.
2. Remove chicken from bag, discarding leftover marinade. Alternating chicken and vegetables, thread 6 skewers, beginning and ending with chicken pieces.
3. Preheat grill to medium-high heat.
4. Place skewers on grill rack coated with canola oil cooking spray. Cook 12 minutes or until chicken is no longer pink in center, turning frequently. Be careful not to overcook chicken. Remove from grill, place on serving platter and spoon remaining marinade over all. Serve with lime wedges.
Yield
6 servings
serving size
1 kabob
nutritional analysis
Per Serving
Calories
170
Total Fat
6.5 g
Saturated Fat
0.5 g
Cholesterol
50 mg
Carbohydrates
8 g
Fiber
2 g
Protein
19 g
Sodium
115 mg