Marinated Ginger Chicken Wrap
A tasty version of a restaurant favorite!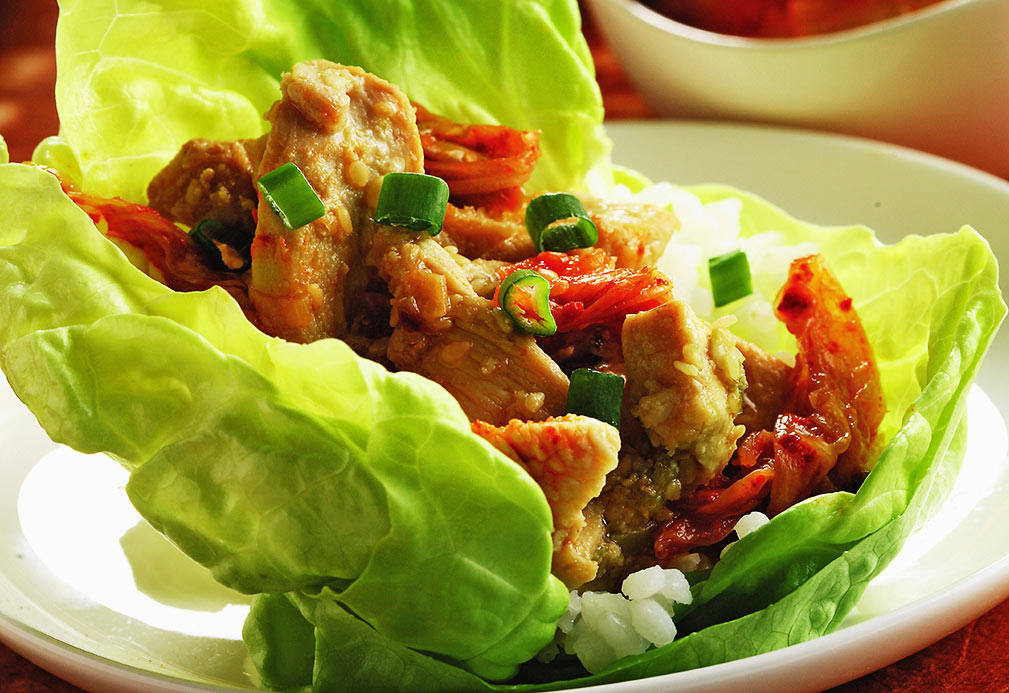 Ingredients
1 Tbsp seasoned rice vinegar 15 mL
1/4 cup low-sodium soy sauce 60 mL
1 Tbsp granulated sugar 15 mL
2 Tbsp canola oil 30 mL
1/2 cup finely chopped green onions 125 mL
2 cloves garlic, minced
1 Tbsp minced fresh ginger 15 mL
2 Tbsp toasted sesame seeds 30 mL
1 lb boneless, skinless chicken breasts cut into 1/4 inch (0.5 cm) strips 500g
2 Tbsp canola oil 30 mL
1 head iceberg lettuce
1 jar (16oz/398 mL) kimchi
2 to 2 1/2 cups steamed, sticky white rice 500 to 625 mL
Instructions
1. In large bowl, stir together vinegar, soy sauce, sugar, canola oil, green onions, garlic, ginger and sesame seeds. Add chicken and toss to coat. Marinate 2 to 4 hours in refrigerator. Discard marinade.
2. Heat 2 Tbsp (30 mL) canola oil in large frying pan. Add chicken and stir fry until cooked about 3 minutes.
3. Meanwhile, wash and separate lettuce leaves. Pat off excess water with paper
4. To serve, allow guests to wrap their own portions of chicken, kimchi and rice in lettuce leaves. Serve immediately.
Yield
6 servings
serving size
nutritional analysis
Per Serving
Calories
240
Total Fat
6 g
Saturated Fat
0.5 g
Cholesterol
45 mg
Carbohydrates
21 g
Fiber
3 g
Protein
21 g
Sodium
500 mg