Chocolate Raspberry Cakes with Raspberry Crème Icing
Chocolate and raspberries are a perfect combination for Valentine's Day. Canola oil reduces the amount of saturated fat in this dessert and, along with buttermilk, helps produce a cake crumb that's tender and rich – like your love!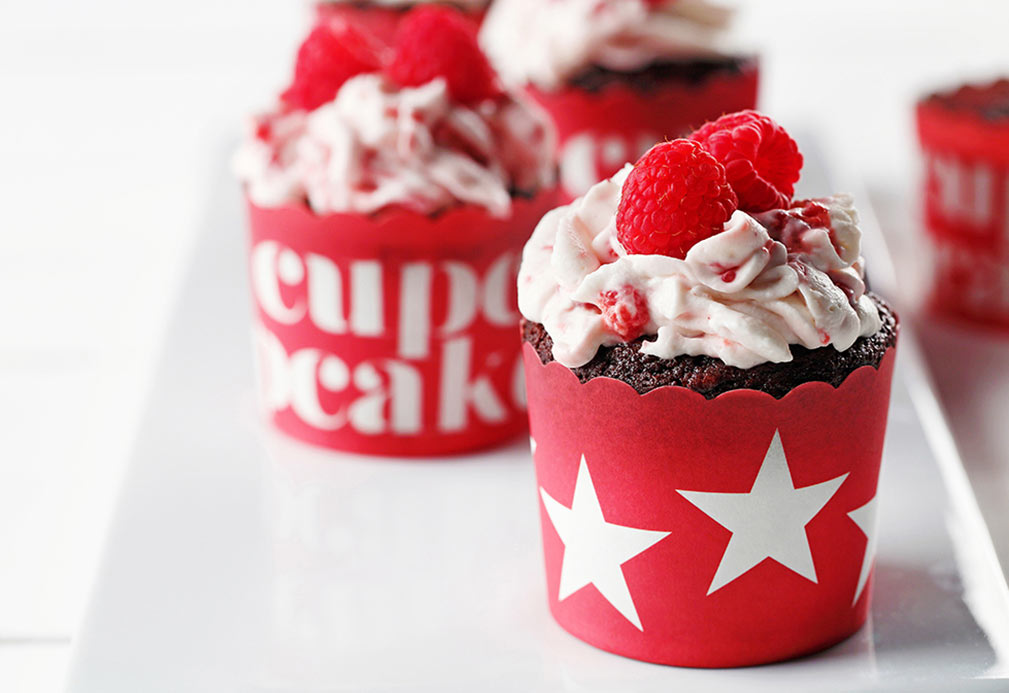 Ingredients
Cake
1 3/4 cups cake flour 425 mL
3/4 cup cocoa powder 175 mL
2 tsp baking soda 10 mL
1/2 tsp salt 2 mL
2 cups granulated sugar 500 mL
3 eggs
1 cup fresh raspberries 250 mL
1 1/4 cups canola oil 310 mL
1 1/4 cups buttermilk 310 mL
4 oz bittersweet chocolate, melted and cooled 125g
3/4 cup strong brewed coffee 175 mL
2 tsp vanilla extract 10 mL
Icing
1 cup whipping cream, cold 250 mL
4 oz cream cheese, room temperature 125 g
1/2 cup granulated sugar 125 mL
1 cup fresh raspberries, crushed 250 mL
1 tsp vanilla extract 5 mL
Instructions
Cake
1. Preheat oven to 350 °F (180 °C). Line two muffin tins with cupcake papers.
2. In large bowl, whisk together cake flour, cocoa powder, baking soda and salt. Set aside.
3. In another large bowl, whisk sugar and eggs until light yellow, about 4 minutes. Add raspberries, whisking to break them into smaller pieces. Add canola oil, buttermilk, melted bittersweet chocolate, coffee and vanilla, whisking until combined.
4. In three parts, pour wet mixture into dry mixture, whisking well after each addition. Batter will be quite runny. Fill muffin tins about 3/4 full.
5. Bake about 20 to 25 minutes or until toothpick inserted into center comes out clean. Cool completely on wire rack before icing with Raspberry Crème Icing. Top each with a fresh raspberry, if desired.
Icing
6. In stand mixer with whip attachment, on medium speed, blend whipping cream and cream cheese for 3 minutes until slightly thickened. Increase speed, adding granulated sugar while motor is running, until firm peaks form.
7. In medium bowl, combine crushed raspberries and vanilla. Add about 1/2 cup (125mL) whipped cream mixture. Blend together. Add this to remainder whipped cream mixture by hand.
8. Pipe or dollop on top of cupcakes.
Yield
24 cupcakes and 2 cups (500 mL) icing
serving size
1 cupcake and 2 Tbsp (30 mL) icing
nutritional analysis
Per Serving
Calories
260
Total Fat
15 g
Saturated Fat
2.5 g
Cholesterol
25 mg
Carbohydrates
30 g
Fiber
1 g
Sugars
19 g
Protein
3 g
Sodium
180 mg
Potassium
85 mg