Cilantro Chimichurri Sauce
This cilantro chimichurri sauce is so versatile. Use as a topping on chicken, beef or fish. It also makes a tasty marinade.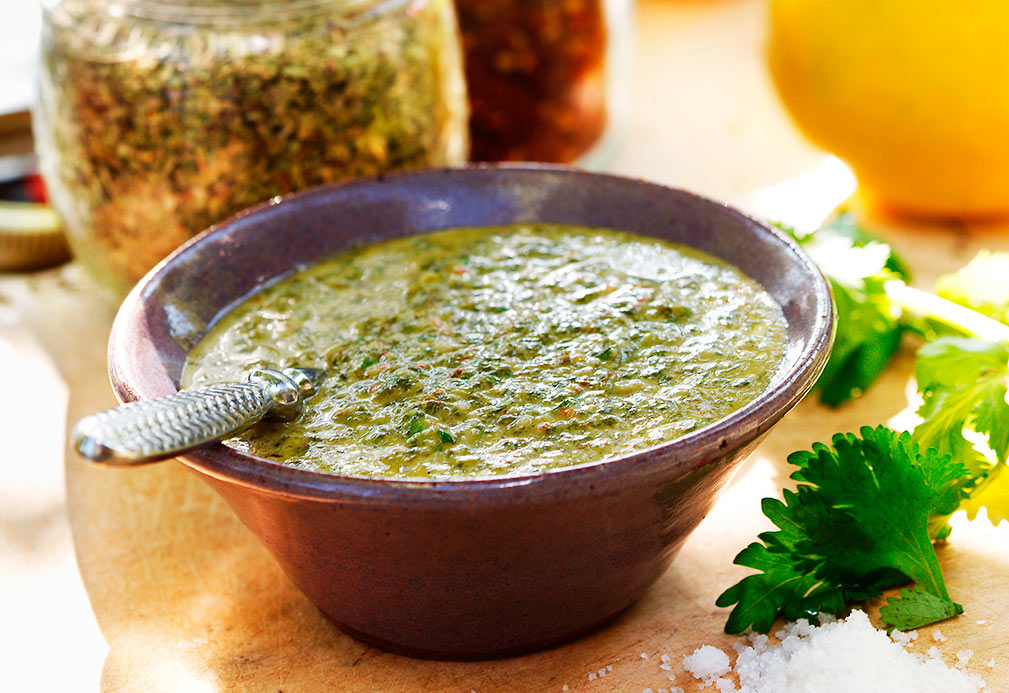 Ingredients
1/3 cup freshly squeezed lemon juice 75 mL
3 cups fresh cilantro, packed 750 mL
3 garlic cloves
1 tsp crushed red pepper flakes, or to taste 5 mL
1 tsp dried oregano 5 mL
1 tsp kosher salt, or to taste 5 mL
1/2 cup canola oil 125 mL
Instructions
1. Combine lemon juice, cilantro, garlic, pepper flakes, oregano, salt and canola oil in a blender. Process to form a thick purée. Taste and season with pepper flakes and salt as desired. Store in an airtight container and refrigerate until needed. For best results, make on same day serving.
2. Use 1/3 cup (75 mL) chimichurri as a marinade and reserve 2/3 cup (150 mL) to use as a sauce for beef, pork, chicken or meaty fish such as tuna, salmon and swordfish. Marinate beef, pork and chicken up to 4 hours or overnight and fish up to 1 hour. Discard marinade after using. Grill over medium-high heat.
Yield
1 cup (250 mL)
serving size
2 tsp (10 mL)
nutritional analysis
Per Serving
Calories
40
Total Fat
4.5 g
Saturated Fat
0 g
Cholesterol
0 mg
Carbohydrates
1 g
Fiber
0 g
Protein
0 g
Sodium
80 mg