Sautéed Pork Loin Chops with Burgundy Mushrooms
Rich, meaty, wine-flavored mushrooms provide an unctuous texture for lean, clean protein such as pork loin chops. They are delicious served with lightly buttered noodles, roasted or mashed potatoes, or French bread and a green salad. Canola oil's high smoke point makes it the right choice for sautéing the mushrooms and browning the pork chops.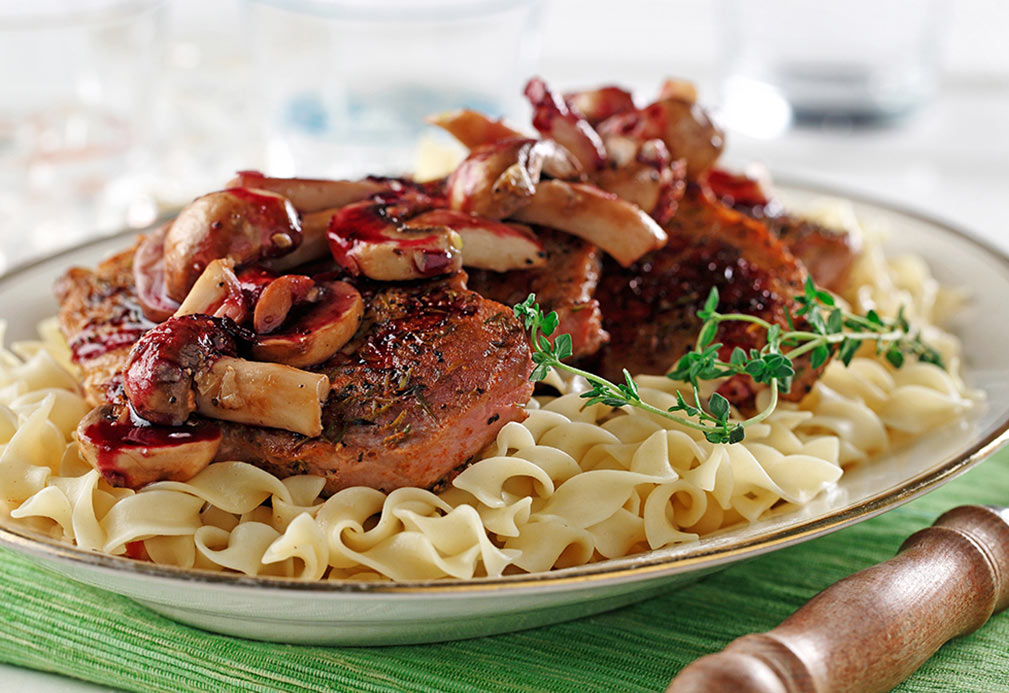 Ingredients
Mushrooms
2 Tbsp canola oil 30 mL
1 lb fresh mushrooms, sliced 500 g
1/4 tsp salt 1 mL
1/4 tsp ground black pepper 1 mL
2 cloves garlic, minced
1/2 cup pinot noir 125 mL
Pork
1/2 tsp chopped fresh thyme leaves 2 mL
1/2 tsp paprika 2 mL
1/4 tsp salt 1 mL
1/2 tsp ground black pepper 2 mL
4 boneless pork loin chops (4 oz/125 g each)
1 Tbsp canola oil 15 mL
Instructions
For mushrooms: In large sauté pan, heat oil over high heat. Add mushrooms, salt and pepper and cook until brown, about 6 to 8 minutes. Stir in garlic and cook 1 minute more. Add wine and cook until completely absorbed, about 3 to 5 minutes. Hold warm.
For pork:
1. In small bowl, stir together thyme, paprika, salt and pepper. Set aside. Trim pork chops of any excess fat. Rub both sides of each chop with spice mixture.
2. In large nonstick sauté pan, heat oil over medium-high heat. Cook pork chops until nicely browned on outside and still slightly pink inside, about 3 minutes per side.
Serve each chop topped with about 1/2 cup (125 mL) sautéed mushrooms.
Yield
4 servings
serving size
1 pork chop, 1/2 cup (125 mL) cooked mushrooms.
nutritional analysis
Per Serving
Calories
570
Total Fat
32 g
Saturated Fat
6 g
Cholesterol
170 mg
Carbohydrates
5 g
Fiber
1 g
Sugars
2 g
Protein
58 g
Sodium
460 mg
Potassium
1101 mg