Cod Fish with Potatoes, Fennel and Carrots
Enjoy this seafood and vegetable dinner with simple ingredients and instructions, but with the taste and look of a restaurant meal.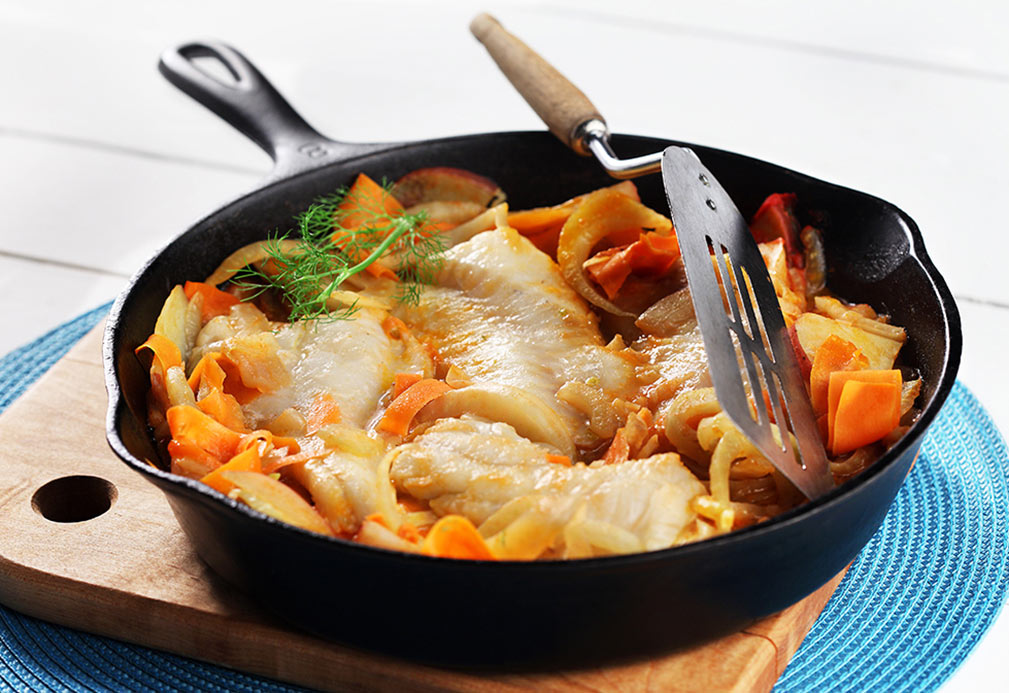 Ingredients
2 Tbsp canola oil 30 mL
1 medium onion, thinly sliced
2 cloves garlic, minced
1 small fennel bulb, trimmed and cut into thin slices, a few fronds reserved
4 small potatoes, thinly sliced
2 large carrots, peeled and shaved into large pieces
3/4 cup low-sodium chicken broth 175 mL
2 Tbsp tomato paste 30 mL
3 wide strips orange peel, white pith removed
4 cod fish fillets (4 oz/125 g each)
Instructions
1. In large non-stick pan, heat canola oil over medium-high heat. Add onion and garlic and sauté until onion is soft, about 6 to 7 minutes. Add fennel and continue to cook until fennel is tender crisp, about 4 to 5 minutes. Add potatoes and carrots. Continue cooking.
2. Whisk together chicken broth and tomato paste and add to pan along with orange peel. Simmer 10 minutes, covered.
3. Place cod fillets on top of vegetables. Cover pan and cook 10 minutes longer or until fish is cooked throughout. To serve, garnish with fennel fronds.
Yield
4 servings
serving size
1 cod fillet and 1 cup (250 mL) vegetables
nutritional analysis
Per Serving
Calories
330
Total Fat
8 g
Saturated Fat
0.5 g
Cholesterol
50 mg
Carbohydrates
40 g
Fiber
8 g
Protein
25 g
Sodium
150 mg