Cornmeal Crusted Fish and Zucchini Chips
Get the crisp deliciousness of classic fish and chips without the heaviness and fat from frying. Here, white fish is breaded in cornmeal, misted with canola oil and baked at a high temperature so it's crisp. The breaded zucchini slices are a fun way to get vegetables into this comfort food meal. It's all served with a fresh lemony tartar sauce using a healthy base of canola oil mayonnaise.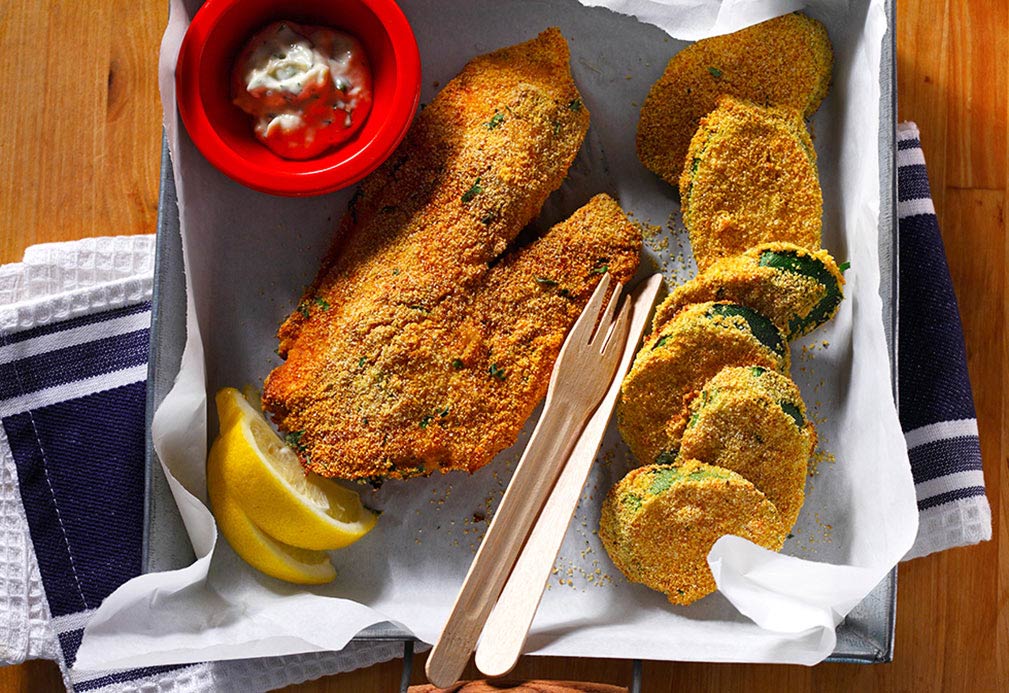 Ingredients
Fish & Chips:
1 cup 1% buttermilk 250 mL
1 egg, whisked
2 cups cornmeal 500 mL
2 Tbsp finely chopped fresh parsley 30 mL
1 Tbsp paprika 15 mL
1/4 tsp black pepper 1 mL
4 fillets white fish (3 oz/90 g each), such as tilapia, snapper or grouper
2 medium zucchini, sliced on bias, about 1/2-inch (1 cm) thick (24 total slices)
canola oil cooking spray
2 Tbsp chopped fresh parsley 30 mL 
Tartar Sauce:
1/4 cup reduced-fat canola oil mayonnaise 60 mL
1 Tbsp finely chopped fresh parsley 15 mL
1 tsp lemon zest 5 mL
1 tsp fresh lemon juice 5 mL
1 tsp prepared horseradish 5 mL
Instructions
1. Preheat oven to 400 °F (200 °C).
2. In shallow bowl, whisk together buttermilk and eggs. In another shallow bowl, mix together cornmeal, parsley, paprika and pepper.
3. Dip fish and zucchini into buttermilk mixture and then coat with cornmeal mixture, shaking off excess.
4. Mist breaded fish and zucchini with canola oil cooking spray and place on baking sheet.
5. Bake 15 minutes or until golden and crisp.
6. While fish and zucchini are baking, prepare tartar sauce. In small bowl, combine tartar sauce ingredients. Serve with fish and zucchini chips. Garnish dish with sprinkle of chopped, fresh parsley.
Yield
4 servings
serving size
3 oz (90 g) fish, 6 zucchini chips and 1 Tbsp (15 mL) tartar sauce
nutritional analysis
Per Serving
Calories
470
Total Fat
8 g
Saturated Fat
1 g
Cholesterol
95 mg
Carbohydrates
69 g
Fiber
3 g
Sugars
3 g
Protein
25 g
Sodium
250 mg
Potassium
473 mg