Skillet Gnocchi with Butternut Squash and Kale Pesto
Hearty, whole grain gnocchi and the kale lay the foundation for this nutrient-rich comfort dish. The winning combination of canola oil and walnuts give the meal two of the best sources of plant-based omega-3 fat available. Convenience foods such as pre-packaged whole grain gnocchi and frozen cubed butternut squash save time in preparing the dish.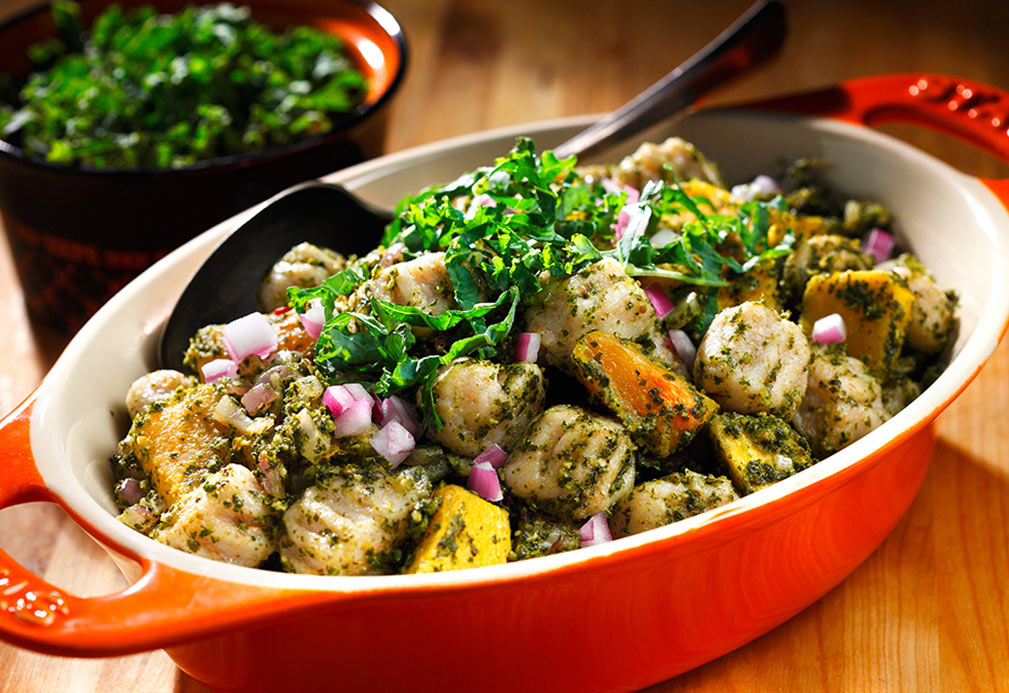 Ingredients
Kale Pesto
2 cups chopped kale leaves 500 mL
2 Tbsp fresh lemon juice 30 mL
2 Tbsp grated Parmesan cheese 30 mL
1.5 Tbsp chopped walnuts 20 mL
1 clove garlic, minced
2 Tbsp canola oil 30 mL
Gnocchi
1.5 cups frozen pre-cut (1-inch/2.5 cm cubes) butternut squash, thawed 375 mL
1 small red onion, finely chopped
1 package (16 oz/500g) prepared whole grain gnocchi
1 cup kale leaves, cut into fine strips 250 mL
Instructions
1. To prepare pesto: In food processor, purée kale, lemon juice, Parmesan cheese, walnuts and garlic for 2 minutes until paste forms. While processing on low, drizzle in canola oil.
2. Warm large non-stick skillet over medium heat. Add pesto, butternut squash, red onion (reserve 2 Tbsp/30 mL for garnish) and sauté for 5 minutes. Add gnocchi and sauté another 5 minutes until thoroughly heated.
3. Top with kale strips and chopped red onion. Serve.
Yield
6 servings
serving size
1 cup (250 mL) gnocchi
nutritional analysis
Per Serving
Calories
260
Total Fat
8 g
Saturated Fat
1.5 g
Cholesterol
5 mg
Carbohydrates
42 g
Fiber
4 g
Sugars
6 g
Protein
8 g
Sodium
390 mg
Potassium
337 mg