Couscous, Watermelon and Gorgonzola Salad
A flavorful watermelon salad with the sharp tang of Gorgonzola cheese will make any luncheon a success. Canola oil's light taste and texture is ideal for a vinaigrette and works well with the dish's lively flavors.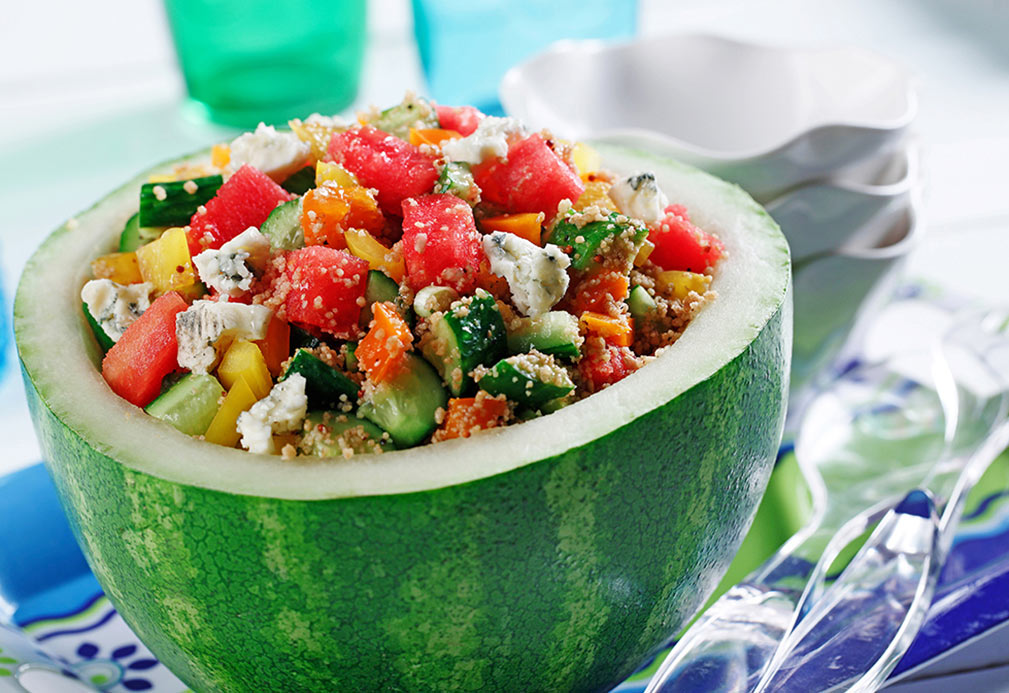 Ingredients
3/4 cup water 175 mL
1 tsp canola oil 5 mL
3/4 cup uncooked whole wheat couscous 175 mL
3 cups cubed watermelon 750 mL
3 cups chopped cucumber 750 mL
1 cup crumbled Gorgonzola 250 mL
1 Tbsp Dijon mustard 15 mL
2 Tbsp balsamic vinegar 30 mL
3 Tbsp canola oil 45 mL
1 tsp ground pepper 5 mL
Instructions
1. In medium saucepan, bring water and 1 tsp (5 mL) canola oil to boil over high heat. Stir in couscous, cover tightly and remove from heat. Let stand 5 minutes or until tender. Fluff with fork and set aside to cool completely.
2. In large bowl, add watermelon, cucumber and Gorgonzola to couscous. Stir to blend.
3. In small bowl, whisk mustard and balsamic vinegar. In steady stream, drizzle 3 Tbsp (45 mL) canola oil. Continue to whisk until mixture emulsifies. Toss into salad to lightly coat. Top with ground pepper.
Yield
12 servings
serving size
1/2 cup (125 mL)
nutritional analysis
Per Serving
Calories
130
Total Fat
7 g
Saturated Fat
2.5 g
Cholesterol
10 mg
Carbohydrates
13 g
Fiber
2 g
Sugars
4 g
Protein
4 g
Sodium
140 mg
Potassium
50 mg