Roasted Beet and Tomato Salad
This bright red salad is perfect for a picnic or luncheon. It's so flavorful with fresh herbs and canola oil's neutral taste lets those flavors shine.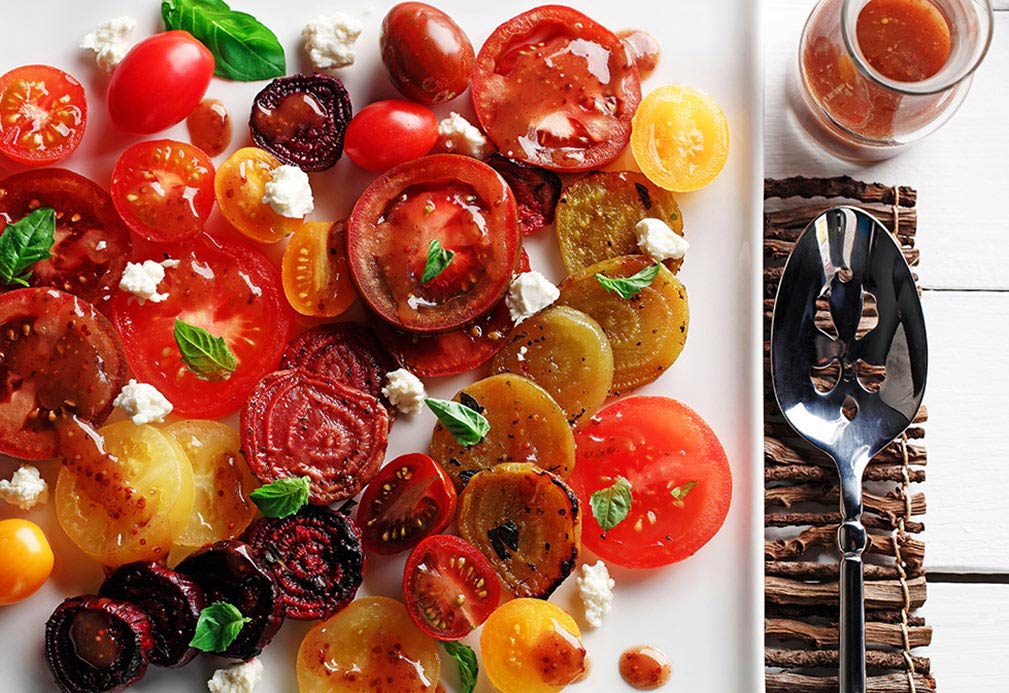 Ingredients
3 lbs beets, peeled and sliced (about 6 medium) 1.5 kg
1 Tbsp canola oil 15 mL
1 1/2 Tbsp fresh marjoram, finely chopped 20 mL
1 1/2 Tbsp fresh oregano, finely chopped 20 mL
1/2 tsp ground black pepper 2 mL
1 Tbsp coarse mustard 15 mL
2 Tbsp pomegranate vinegar (or red wine vinegar) 30 mL
3 Tbsp canola oil 45 mL
1 lb red and yellow tomatoes, seeded and sliced 500g
4 oz goat cheese, crumbled 125 g
6 fresh basil leaves, sliced into strips
Instructions
1. Preheat oven to 400 °F (200 °C).
2. In large bowl, toss beets, 1 Tbsp (15 mL) canola oil, marjoram, oregano and black pepper to fully coat. Place on shallow roasting pan. Roast 20 minutes, turn beets over and continue to roast for another 20 minutes. Test to see if fork tender. Let cool.
3. In large bowl, whisk mustard and vinegar, pouring 1 Tbsp (15 mL) canola in a steady stream while whisking to emulsify mixture, about 2 minutes. Toss tomatoes and cooled beets to coat completely. Garnish with crumbled goat cheese and basil.
Yield
8 servings
serving size
1 cup (250 mL)
nutritional analysis
Per Serving
Calories
220
Total Fat
11 g
Saturated Fat
4 g
Cholesterol
15 mg
Carbohydrates
20 g
Fiber
5 g
Sugars
14 g
Protein
8 g
Sodium
220 mg
Potassium
575 mg