Parsnip Vichyssoise with Apple Horseradish Oil and Shiitake Chips
Recipe developed at The Culinary Institute of America (CIA) by Chef Instructor Brenda La Noue. See Chef Tucker Bunch prepare the recipe in ther video.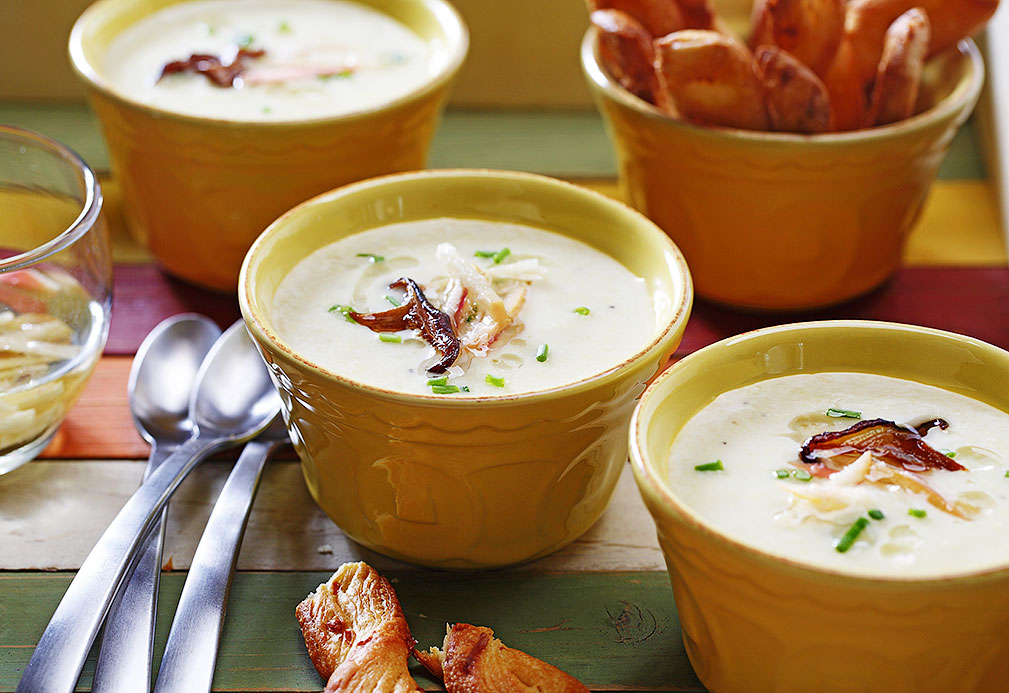 Ingredients
Roasted shiitake chips
1/4 cup Shiitake mushrooms, thinly sliced
1 Tbsp canola oil
Parsnip vichyssoise
3 Tbsp canola oil
1/2 cup onion, chopped
1/2 cup celery, chopped
1 lb parsnips, peeled, sliced ¼ inch thick
2 Tbsp garlic, minced
6 leeks, whites only, chopped
1 cup white wine
1/2 lb Yukon gold potatoes, peeled, cut 1 inch
2 qt chicken stock or water
1/4 tsp salt
1.4 tsp pepper
1 + cup heavy cream
1-2 Tbsp lemon juice as needed
Apple horseradish oil
1/2 cup Braeburn apple, finely julienned
1 tsp horseradish, freshly grated
1/2 cup canola oil
1/4 tsp salt
1 Tbsp chives, thinly sliced
Instructions
1. For the roasted shiitake chips: Toss the shiitake mushrooms with 1 tablespoon of canola oil. Place in a single layer on a Silpat mat. Cover with a piece of parchment paper and another sheet pan. Bake in a 250 °F (120 °C) oven until golden brown and crisp, approximately 30 to 45 minutes. Set aside for garnish.
2. For the parsnip vichyssoise: In a heavy-bottomed pot, heat 3 tablespoons of canola oil. Add the onions, celery, parsnips and garlic and sweat the vegetables on a low flame, covered, until translucent, about 5 minutes. Add the leeks and cook another 5 minutes. Pour in the wine and cook until dry. Add the potatoes and cover with chicken stock or water. Salt and pepper to taste. Let simmer over medium heat for about 30 minutes. When the vegetables are tender, blend until smooth using an immersion blender. Stir in the heavy cream and adjust the seasoning with salt, pepper, and lemon juice.
3. For the apple horseradish oil: Combine the apple, horseradish, and canola oil. Season with salt.
4. To serve: Top each hot bowl of soup with a little bit of the apple mixture, lean a shiitake chip on top, and sprinkle with chives.
Yield
8 portions as a first course
serving size
nutritional analysis
Calories
520
Total Fat
35 g
Saturated Fat
9 g
Cholesterol
50 mg
Carbohydrates
39 g
Fiber
5 g
Sugars
11 g
Protein
9 g
Sodium
530 mg
Potassium
667 mg