Oyster Mushroom Ceviche with Avocado and Pink Grapefruit
Recipe developed at The Culinary Institute of America (CIA) by Chef Instructor Brenda La Noue. See Chef Almir Da Fonseca prepare the recipe in the video.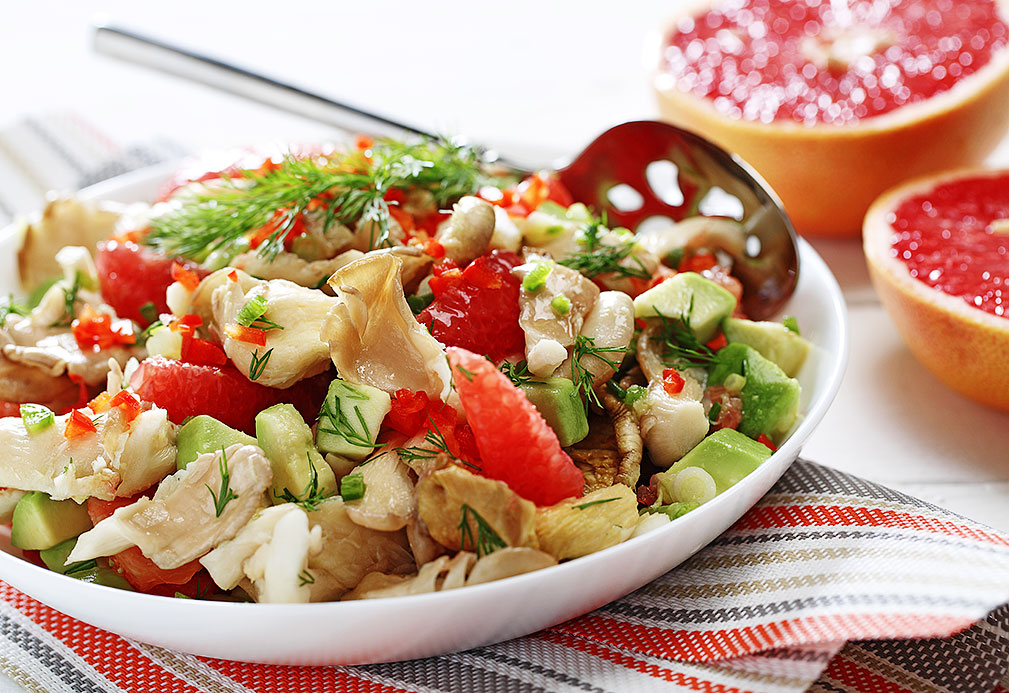 Ingredients
1 lb oyster mushrooms
1 cup Meyer lemon juice
2 garlic gloves, peeled and crushed
1 Tbsp fresh ginger, peeled and minced
1 Jalapeño pepper, seeded and finely chopped; or 1/8 tsp cayenne
1/2 tsp coarse salt
1/4 cup canola oil
2 avocado, cut in 1/2 inch pieces
3 pink grapefruit, peeled, segmented
1/4 cup scallions, white parts only, thinly sliced
2 Tbsp fresh dill, chopped
2 Tbsp red bell pepper, seeded and very finely diced (1/8 inch)
Instructions
1. Trim the mushroom stems to the base of the cap and wipe the caps clean with a damp cloth. If the mushrooms are large, cut in half lengthwise.
2. In a stainless steel, porcelain or glass bowl, combine the lemon juice, garlic, ginger, jalapeno, salt and canola oil. Mix well with a wire whisk, add the mushrooms, and let sit for 30 minutes at room temperature.
3. Add the avocados, pink grapefruit, scallions and dill. Toss well and let sit again for another 30 minutes. Correct the seasonings with salt to taste.
4. Sprinkle with the diced red bell pepper and serve.
Yield
8 servings
serving size
nutritional analysis
Calories
210
Total Fat
15 g
Saturated Fat
2 g
Cholesterol
0 mg
Carbohydrates
21 g
Fiber
6 g
Sugars
8 g
Protein
4 g
Sodium
150 mg
Potassium
658 mg