Creamy Asparagus with Tomato
This easy side dish is great when fresh asparagus is in season during the spring and early summer months. Crumbled tofu is an acceptable alternative if you don't feel like cottage cheese.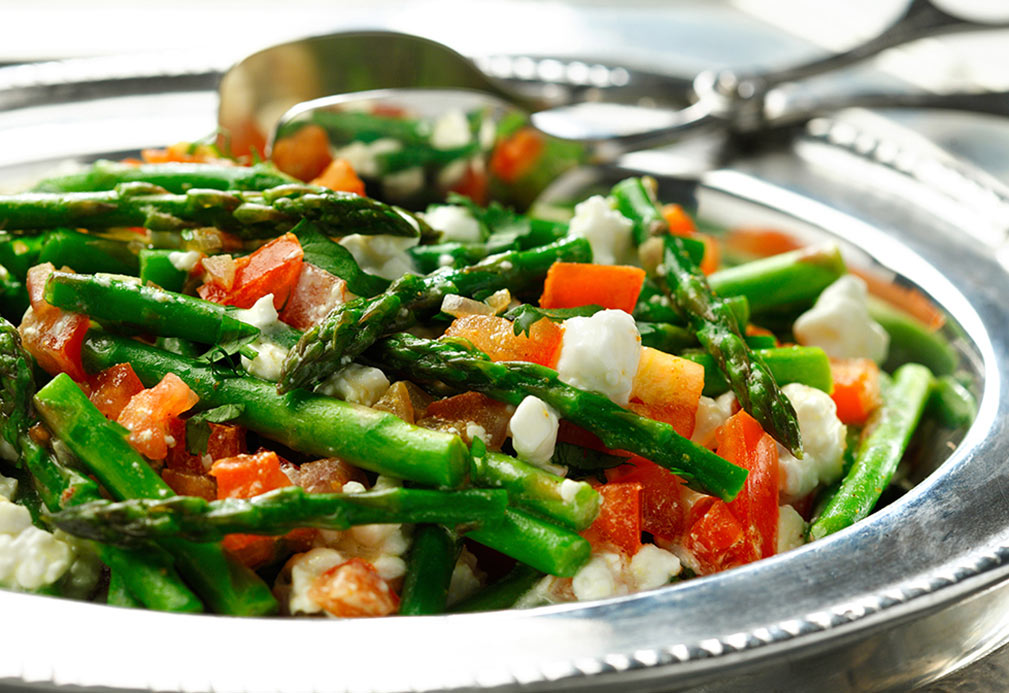 Ingredients
2 Tbsp canola oil 30 mL
1 cup finely chopped red onion 250 mL
2 tsp Madras-style curry powder 10 mL
1 1/2 lbs asparagus 750g, tough ends discarded, cut into 2-inch (5 cms) lengths
1 cup nonfat cottage cheese 250 mL
1/2 tsp coarse kosher or sea salt 2 mL
1 large tomato, cored and finely chopped
2 Tbsp finely chopped fresh cilantro leaves and tender stems 30 mL
Instructions
1. In a large skillet, heat the canola oil over medium-high heat. Add the onion and stir-fry until it is light brown around the edges, 3 to 5 minutes.
2. Sprinkle in the curry powder and stir it  to cook the spices without burning, about 15 seconds. Add the asparagus and stir to coat it with the onion and spices. Add 1/2 cup (125 mL) water , and bring it to a boil. Lower the heat to medium, cover the skillet, and simmer, stirring occasionally, until the asparagus is fork-tender,  about 5 minutes.
3. Stir in the cottage cheese, salt, and tomato. Cook, uncovered, stirring occasionally, until the cheese is warmed through and the tomato has softened, 3 to 5 minutes.
4. Sprinkle with the cilantro, and serve.
Yield
8 servings
serving size
1/2 cup (125 mL)
nutritional analysis
Per Serving
Calories
80
Total Fat
4 g
Saturated Fat
0.5 g
Cholesterol
5 mg
Carbohydrates
8 g
Fiber
2 g
Sugars
4 g
Protein
5 g
Sodium
250 mg