Sweet Corn with Habanero Chiles and Lime
Nothing screams summer more than golden kernels of corn with their natural sweetness and succulence. When sweet corn overflows the bins at grocery stores and farmers markets during hot months, this recipe is a perfect accompaniment to the meats from your barbeque. You may very well set the main course aside and dig into this hot and tart sideliner.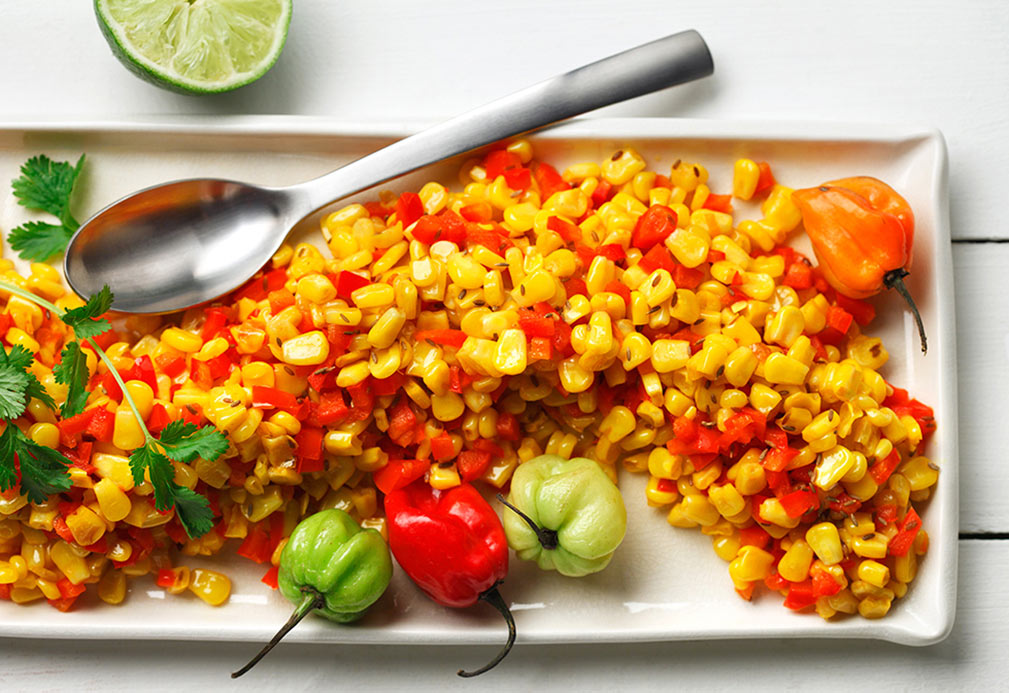 Ingredients
2 Tbsp canola oil 30 mL
1 tsp cumin seeds 5 mL
kernels from 3 ears fresh sweet corn,* about 3 cups (750 mL)
1 medium red bell pepper, stem discarded, cored, seeds and ribs removed, finely chopped
1/2 tsp coarse kosher or sea salt 2 mL
1/4 tsp ground turmeric 1 mL
2 Tbsp finely chopped fresh cilantro 30 mL
1/2 to 1 habanero chile, stem removed, finely chopped (do not remove seeds)
juice from 1 medium lime 
Instructions
1. In medium saucepan, heat canola oil over medium-high heat. Sprinkle in cumin seeds and allow them to sizzle, turning reddish brown and becoming aromatic, 5 to 10 seconds.
2. Immediately add corn, red pepper, salt and turmeric. Stir once or twice and let corn warm up, 2 to 4 minutes.
3. Fold in cilantro, chile and lime juice, and serve.
Yield
6 servings
serving size
1/2 cup (125 mL)
nutritional analysis
Per Serving
Calories
120
Total Fat
6 g
Saturated Fat
0 g
Cholesterol
0 mg
Carbohydrates
14 g
Fiber
1 g
Sugars
6 g
Protein
3 g
Sodium
210 mg
Potassium
74 mg