Root Vegetable Mash with Coriander
Visions of sugar plum fairies while the fireplace crackles with a glowing warmth may be your panacea for the winter, but mine is a bowl of this comforting root vegetable smash. Pleasantly hot, potent and highly addictive, the dish is flavored with a spice blend that makes you see red in more ways than one.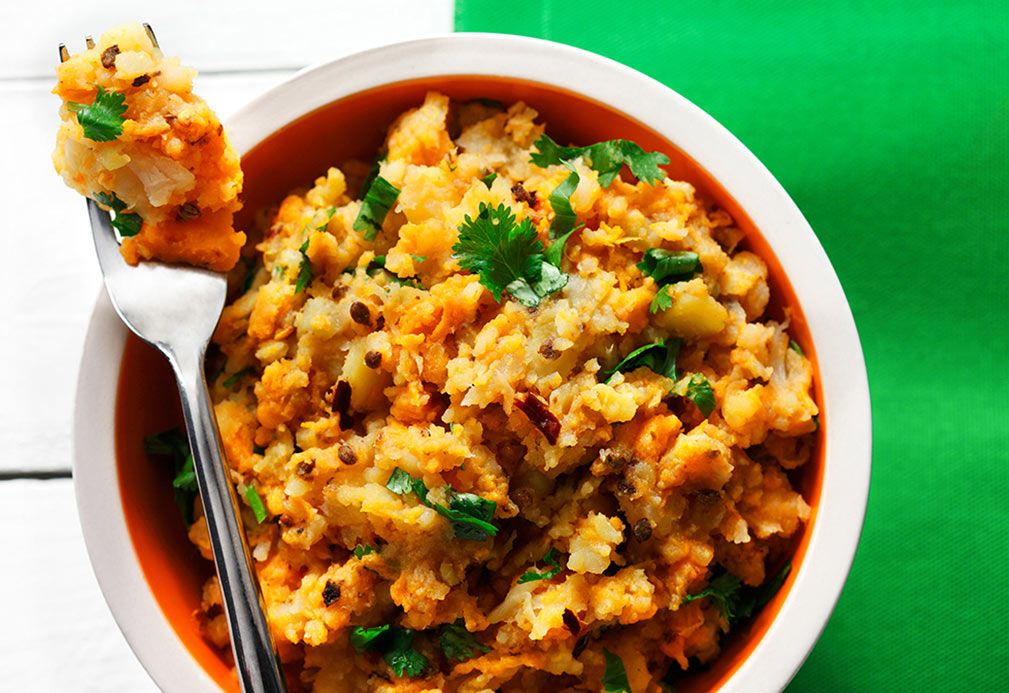 Ingredients
2 medium (1/2 lb/250 g) russet or Yukon Gold potatoes, peeled and cut into large pieces
1 large (1/2 lb/250 g) sweet potato, peeled and cut into large pieces
1 large (1/2 lb/250 g) parsnip, peeled and cut into large pieces
1 large (1/2 lb/250 g) turnip, peeled and cut into large pieces
2 Tbsp canola oil mL 30 mL
2 Tbsp coriander seeds 30 mL
4 dried red chiles (like chile de arbol), stems discarded
1/4 cup finely chopped fresh cilantro 60 mL
1/2 tsp coarse kosher or sea salt 2 mL 
Instructions
1. In large saucepan filled halfway with water, add potatoes, sweet potatoes, parsnips and turnip. Bring water to boil and then lower heat to medium and cook, partially covered, until vegetables are very tender, 15 to 20 minutes. Drain vegetables. Transfer them to medium bowl and coarsely mash. Cover mashed vegetables to keep warm.
2. While vegetables cook, in small skillet, heat canola oil over medium-high heat. Add coriander and chiles and stir-fry until coriander seeds are reddish brown and chiles are blackened, about 1 minute. Turn off heat. Using slotted spoon, transfer chiles and coriander to mortar. Reserve spiced oil. Grind chilies and coriander with pestle, scraping spice blend into center with spatula until it has consistency of finely ground black pepper.
3. Once vegetables are smashed, add reserved spiced oil into vegetables along with ground spice blend, cilantro and salt. Stir well to combine and serve warm. 
Yield
8 servings
serving size
1/2 cup (125 mL)
nutritional analysis
Per Serving
Calories
100
Total Fat
4 g
Saturated Fat
0 g
Cholesterol
0 mg
Carbohydrates
15 g
Fiber
4 g
Sugars
3 g
Protein
2 g
Sodium
210 mg
Potassium
185 mg