Creamy Cooked Mayonnaise
Add this delicious mayonnaise to a sandwich of your choice for an extra dash of flavor. With its mild taste and light texture, canola oil is the ideal base for this classic condiment.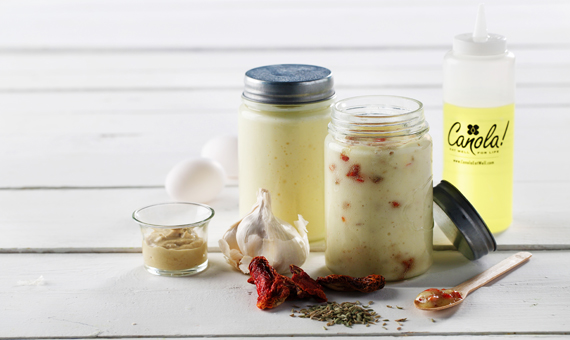 Ingredients
2 egg yolks
2 Tbsp fresh lemon juice 30 mL
2 Tbsp water 30 mL
1 tsp granulated sugar 5 mL
1 tsp mustard powder 5 mL
1/2 tsp salt 2 mL
1/4 tsp ground black pepper 1 mL
1 cup canola oil 250 mL
Instructions
1. In saucepan, whisk egg yolks, lemon juice, water, sugar, mustard, salt and pepper until smooth. Over very low heat, cook, stirring constantly, until mixture bubbles in 1 or 2 places. Remove from heat immediately and set aside to cool for 5 minutes.
2. Add mixture to blender or food processor. Cover with lid and turn to high speed. Slowly add canola oil in a thin stream through opening in lid. If oil is added too quickly, mayonnaise may separate. Process until mayonnaise is thick and smooth. Scrape down sides with spatula as required. Refrigerate immediately. Use within one week.
Tip: To make sun-dried tomato mayonnaise, add 1/2 cup (125 mL) chopped sun-dried tomatoes, 1 tsp (5 mL) minced garlic and 1 tsp (5 mL) toasted, ground fennel.
Yield
1 1/2 cups (375 mL)
serving size
1 Tbsp (15 mL)
nutritional analysis
Per Serving
Calories
90
Total Fat
10 g
Saturated Fat
1 g
Cholesterol
15 mg
Carbohydrates
0 g
Fiber
0 g
Sugars
0 g
Protein
0 g
Sodium
50 mg
Potassium
3 mg