Crisp Skin Snapper with Polenta
Try this Southwestern styled dish for a special meal. To reduce the fat, substitute milk for the whipping cream.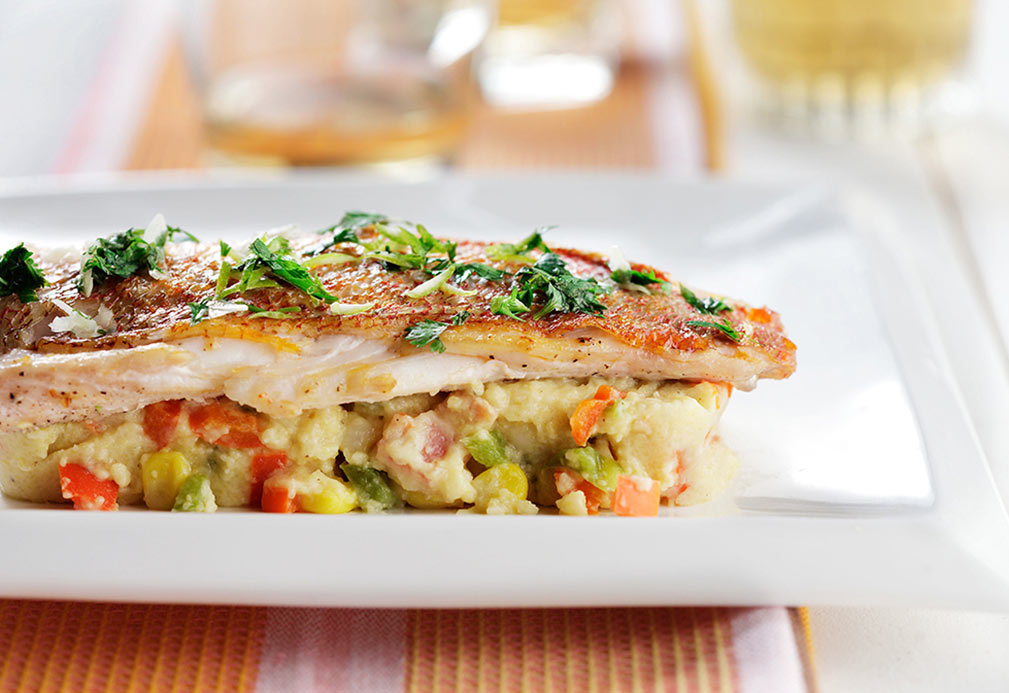 Ingredients
1/2 cup fresh cilantro, finely chopped 125 mL
1 1/2 Tbsp garlic, minced 20 mL
1 1/2 Tbsp fresh lime zest, finely grated 20 mL
2 Tbsp canola oil 30 mL
4 (6 oz/170 g) red snapper fillets, skin on
1 tsp salt 5 mL
3/4 tsp black pepper 4 mL
Polenta:
1 cup bacon, coarsely chopped 250 mL
1 red pepper, diced 
1 green pepper, diced
1 dried chipotle pepper (keep whole)
1 cup fresh corn kernels 250 mL
5 1/2 cups low sodium vegetable stock 1.3L
1 cup cornmeal 250 mL
1/2 cup whipping cream 125 mL
1/2 cup Parmesan cheese, freshly grated 125 mL
Instructions
1. Preheat oven to 400 °F (200 °C).
2. In a small bowl, toss together cilantro, garlic, and lime zest. Heat cast iron skillet over medium high heat, add 2 Tbsp (30 mL) canola oil and arrange fillets skin side down, in 1 layer in skillet. Season with salt and pepper.
3. Place skillet in oven for 7 minutes until fillets are just cooked through. Transfer fish, skin side up, onto the polenta then sprinkle with cilantro mixture.
4. To make polenta: In a heavy skillet over medium heat cook bacon until golden brown, add peppers, corn and chipotle to skillet saute for 5 minutes. Add 5 1/2 cups (1.3 L) water; increase heat to medium-high and bring to boil. Gradually whisk in polenta. Reduce heat to low; cook until polenta begins to thicken, stirring frequently, about 20 minutes. Stir in cream, cheese and season with salt and pepper. Serve immediately.
Note: Polenta should be the consistency of oatmeal.
Yield
4 servings
serving size
nutritional analysis
Per Serving
Calories
770
Total Fat
34 g
Saturated Fat
12 g
Cholesterol
145 mg
Carbohydrates
49 g
Fiber
6 g
Protein
65 g
Sodium
930 mg