White Fish with Herb Duxelles
This family pleasing recipe uses mild, flaky white fish, veggies and heart-healthy canola oil. It is a quick, nutritious and tasty dish - perfect for busy weekday dinners.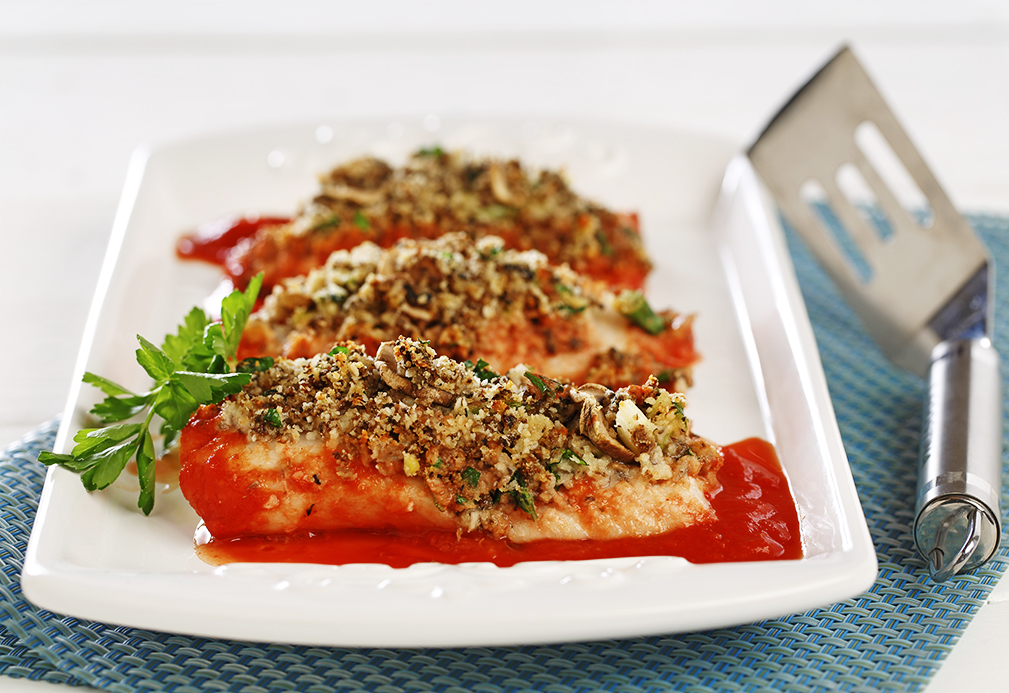 Ingredients
1 package (8oz/225g) fresh mushrooms
1 shallot, finely chopped
4 green onions, chopped
2 Tbsp chopped fresh parsley 30 mL
1 tsp chopped fresh thyme 5 mL
1/4 tsp salt 1 mL
1/4 tsp pepper 1 mL
3/4 cup dry bread crumbs 175 mL
2 Tbsp canola oil 30 mL
1 can (14oz/398 mL) low-sodium crushed tomatoes
1 Tbsp balsamic vinegar 15 mL
1 1/2 lb white fish fillets, about 4 oz/125 g each  750g
Instructions
1. Preheat oven to 400 ⁰F (200 ⁰C).
2. In food processor, mince mushrooms until finely chopped. In large, dry saucepan, cook mushrooms over medium heat until moisture is gone and mushrooms are lightly browned, about 5 minutes.
3. Remove from heat and add shallots, green onions, parsley, thyme, salt, pepper, bread crumbs and canola oil. Mix well. Set duxelles mixture aside.
4. In a lightly oiled 9x13-inch (22x33-cm) baking pan, spread crushed tomatoes . Stir in balsamic vinegar. Place fish fillets on top of tomatoes. Spoon duxelles mixture over fish, covering fillets.
5. Bake for 15 to 20 minutes until fish flakes easily with fork and mushroom mixture is lightly browned.
Yield
6 servings
serving size
1 fish fillet
nutritional analysis
Per Serving
Calories
240
Total Fat
8 g
Saturated Fat
1.5 g
Cholesterol
55 mg
Carbohydrates
17 g
Fiber
2 g
Protein
27 g
Sodium
350 mg